You don't plan it. It just happens. You move from job to job, pick up a new account here, another one there; before you know it, you've left a trail of super accounts in your wake.
If you have multiple super accounts and are paying multiple account-keeping fees, you probably know that you could save time and money if you just chose one super fund and stuck with it. But there seems to be an infidelity problem amongst Australians.
Where's the loyalty?
According to the ATO, of the 14 million Australians with a super account as at 30 June 2015, about 45%, or 6.3 million, had more than one account.1
As the table below shows, 26 per cent had two super accounts and two per cent had up to 24 different accounts!  That's a lot of juggling.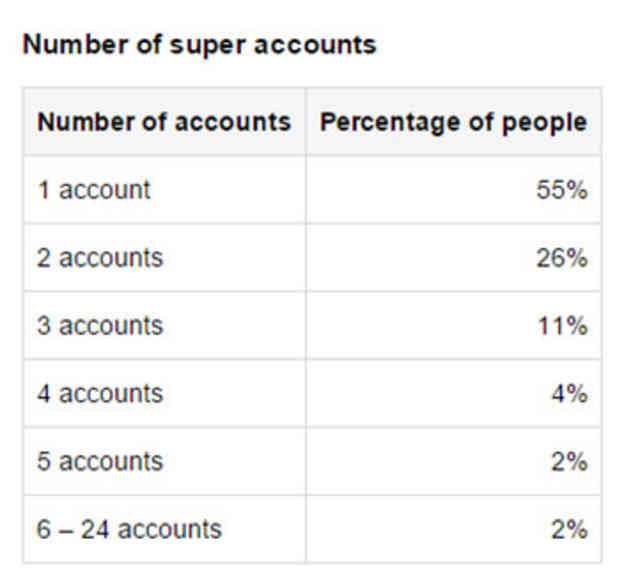 Source: ATO research and statistics - super accounts data overview1

Why can't we commit?
Jacqueline Leko, Senior Manager, BT Consumer Marketing, says it's less about loyalty, and more about the demands of daily life. "Australians are working longer hours than ever before and are worried about the cost of living, kids' school fees, job stability, holding down a mortgage and maintaining their lifestyle."
"They know super is important and deserves their attention; they may even feel anxious about the future. But they don't know where to start or what's the right solution. Sorting out super is seen as a hassle. And retirement is far enough away for them not to panic quite yet. So investing in their financial future ends up being something they put on the back-burner.
"The other thing about super is that it's out of sight, out of mind," Jacqueline says. "If you are not regularly interacting with your super, like you would your bank accounts, it tends to slip off your radar."
Does it change with age?
The stats show that the prime age for two-timers is late 30s to early 40s.1 Though to be fair, this kind of behaviour is pretty strong from our mid 20s and doesn't drop off substantially until retirement age.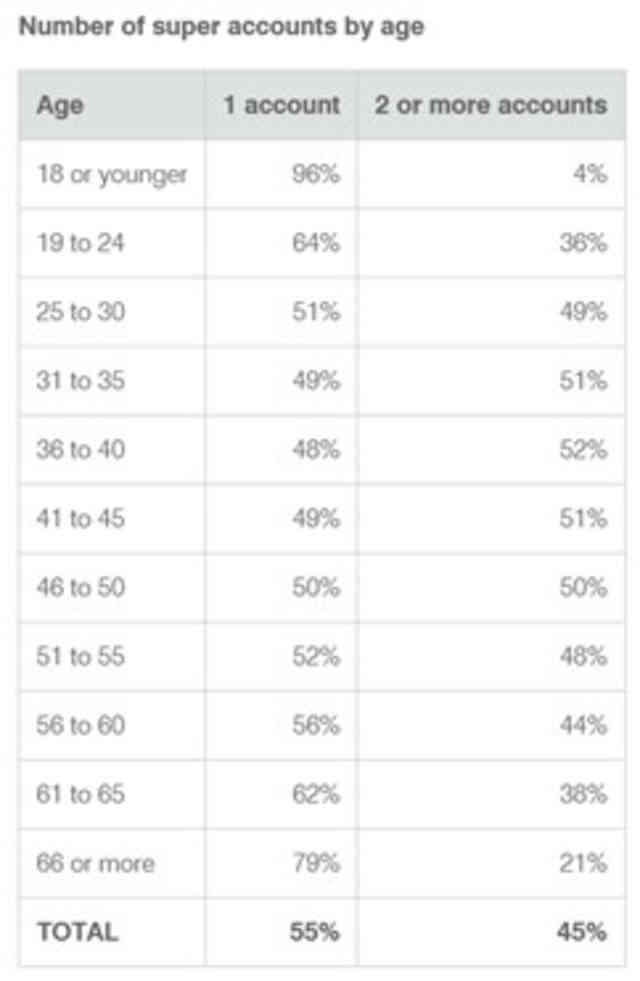 Source: ATO research and statistics - super accounts data overview1

History plays a role in these stats, says Jacqueline. 
"People in their 30s and 40s have probably spent all or most of their working lives with Superannuation Guarantee contributions (compulsory superannuation). They're likely to have had a few jobs since then and collected multiple super accounts along the way. They're also usually in the midst of building their lives with multiple financial commitments - like growing families, holidays and a mortgage."  This is the group that's most likely to have more than one super account.
Australia's most two-timing state
The prize for most accounts per person goes to the Northern Territory, where 53 per cent of people have two or more accounts.  Victoria, Tasmania and SA have lower rates, but looking at the table, we all have some work to do.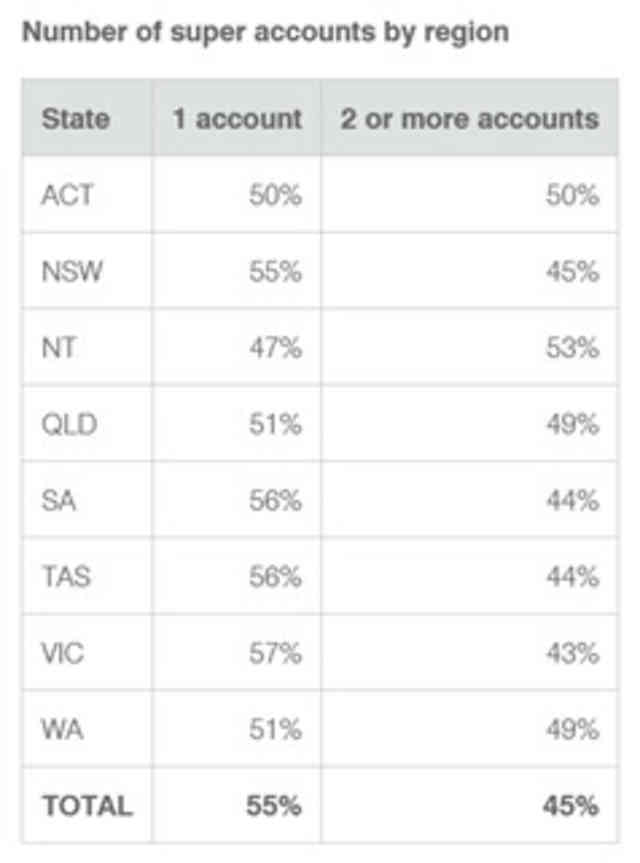 Source: ATO research and statistics - super accounts data overview1

What's it costing you?

If you have multiple super accounts with multiple sets of account keeping fees, you could be paying more than you need to. To give you an idea, the median figure for fees and  other costs paid annually by Australians for a low cost superannuation account is $532 per year.2
Even if it's only a small annual account keeping fee you're paying for each super account you have - it could make a surprisingly big difference to the amount of total savings you have at retirement (imagine how you'd react if money was coming out of your bank account every year, unnecessarily!) 
Increased statement wrangling
If you've got more than one account, you're also dealing with multiple sets of paperwork - at the end of the financial year, your mailbox (or inbox) is full of bulky statements.  Do you really have the time to manage that?  Do you really want to shoulder the guilt about leaving them perpetually unexamined?
Then, when you start in your next new job…
You can easily stay loyal and take your chosen super with you, by doing one simple thing: filling in a Choice of Super Fund form. To make that easier, your chosen fund should issue you with a summary of information, which includes things like the name of your fund, its ABN, your Unique Superannuation Identifier (USI), your member number and account name.  Also a statement to the effect that it's a complying fund, and that it will accept contributions from your employer.
Save it in a safe place on your computer or other device, or in your home filing. Next time you change jobs, just transfer the details to the Choice of Super Fund form, and hand it to your new employer. 

1. ATO research and statistics - super accounts data overview
2. APRA Statistics, MySyper Statistics Selected Feature, June 2014 (issued 2 October 2014)
Do you ever feel like you really should have more super in your account? When someone says 'lost super', do you get a little twinge of recognition?
Are you someone who needs to get across their super? See how many of these 5 signs you recognise.
BT expert Melinda Howes shares 5 steps for making your super work harder.
This information is current as at 30/11/2015.

BT Funds Management Limited ABN 63 002 916 458, AFSL No. 233724, RSE No. L0001090 is the trustee and issuer of interests in BT Super for Life which is a part of Retirement Wrap ABN 39 827 542 991, RSE R1001327. A Product Disclosure Statement (PDS) and Financial Services Guide (FSG) for BT Super for Life can be obtained by calling 1300 653 553, or visiting bt.com.au. You should obtain and consider the PDS and other relevant disclosure documents before deciding whether to acquire, continue to hold or dispose of units in BT Super for Life. This information has been prepared without taking account of your objectives, financial situation or needs. Because of this you should, before acting on this information, consider its appropriateness, having regard to your objectives, financial situation and needs.
This Information may contain material provided directly by third parties and is given in good faith and has been derived from sources believed to be accurate at its issue date. It should not be considered a comprehensive statement on any matter nor relied upon as such. While such material is published with necessary permission, no company in the Westpac Group accepts responsibility for the accuracy or completeness of, or endorses any such material. Except where contrary to law, we intend by this notice to exclude liability for this material.
Superannuation is a long-term investment. The government has placed restrictions on when you can access your preserved benefits.
The Government has set caps on the amount of money you can add to superannuation each year on a concessionally taxed basis. In addition, the government has set a non-concessional contributions cap.  For more detail, speak with a financial adviser or visit the ATO website.
There is no charge for accepting any rollovers, however before requesting the rollover, you should consider where your future employer contributions will be paid (if your employer contributions are currently being paid to another fund) and check with your other fund(s) to determine whether there are any exit or withdrawal fees for moving your benefit, or other loss of benefits (e.g. insurance cover), noting that you may not receive the same type or level of benefits after the rollover. You may not be covered for injuries or illnesses that have arisen since you took out previous insurance, and you may lose loyalty benefits.
There may be limited circumstances where your employer is not required to accept your Choice of Superannuation fund form eg. if you have already exercised Super Choice in the last 12 months.