Home ownership isn't for everyone. But whether you can't afford to buy a home, or just don't want to, there are plenty of other ways to invest for the future.
The great Australian dream traditionally revolves around a Hills hoist spinning in a gentle breeze in a suburban backyard. But for many, this vision of home-ownership is increasingly out of reach or simply not something they aspire to.
In the early 1990s it took the typical Australian worker about 250 weeks of average weekly pay to buy a median-priced house, according to BIS Shrapnel. In 2015 it was 425 weeks.
The rise of dual-income households has allowed many couples to buy homes. And low interest rates are currently helping to reduce mortgage costs. But affordability is still an issue for many Australians.
Rapidly rising prices in our biggest cities, and tougher lending restrictions, aren't making things easier for first home buyers.
Sydney is second (after Hong Kong) and Melbourne is fourth in the world in terms of unaffordability, according to the 2016 Demographia International Housing Affordability Survey.
While home ownership has remained steady at about 70% since the 1960s, homeowners are older than they used to be, and more likely  in debt, according to the Reserve Bank of Australia (RBA) submission to the 2015 Inquiry Into Home Ownership.
"In the 1990s more people owned outright than had a mortgage, but now the reverse is true," the RBA says.
Even if they have the incomes to service a mortgage, first home buyers have to raise a substantial deposit to get on the property ladder.
"It is challenging to be paying rent and other bills while also saving for a deposit," says senior BT financial adviser Diana Saad.
But not all Saad's clients are hell-bent on buying a home. For many, spending the next three decades meeting mortgage repayments and paying interest just doesn't appeal.
"I've noticed that Generation Y (also known as Millennials, and born in the 1980s and early '90s) are generally very comfortable renting and sharing living space," Saad says.
"As part of a more mobile workforce, many would rather live overseas or interstate than put down roots," she says. Or they might prefer to keep renting so they can live in a suburb with a lifestyle they enjoy.
Fortunately for Gen Y - and anyone else locked out (or consciously staying out) of home ownership - buying a home isn't the only way to get ahead financially.
From shares and managed funds to listed property funds and trusts, there are numerous options, says Saad, who dismisses the widely held belief these investments are volatile, while bricks and mortar are a sure thing.
"I believe it is a myth," Saad says. "Property is a growth asset with inherent risks and volatility, just like other investment options."
Property ownership also has the disadvantage of requiring large entry costs, and can be less flexible than some other investments.
"You cannot buy property gradually at different price points in the market," Saad says. "And property is not divisible, so when you need cash flow, you can't sell a door or a window."
Of course, everyone's situation is different, which is why a financial adviser can be such an enormous help when it comes to planning for the future.
"A financial adviser can help you assess the pros and cons of each strategy while considering factors such as interest rates, expected rates of return for different investment strategies and the appropriate level of liquidity required for your situation," Saad says.
1986-2016: The Cost of Living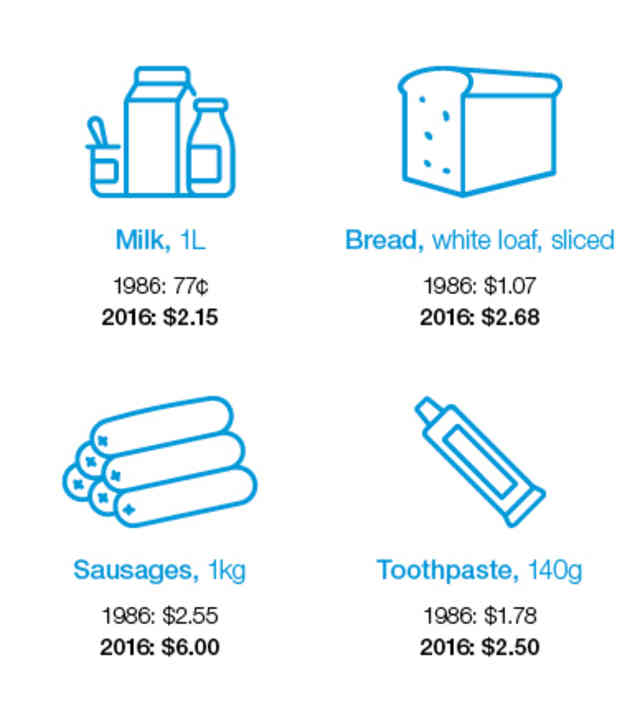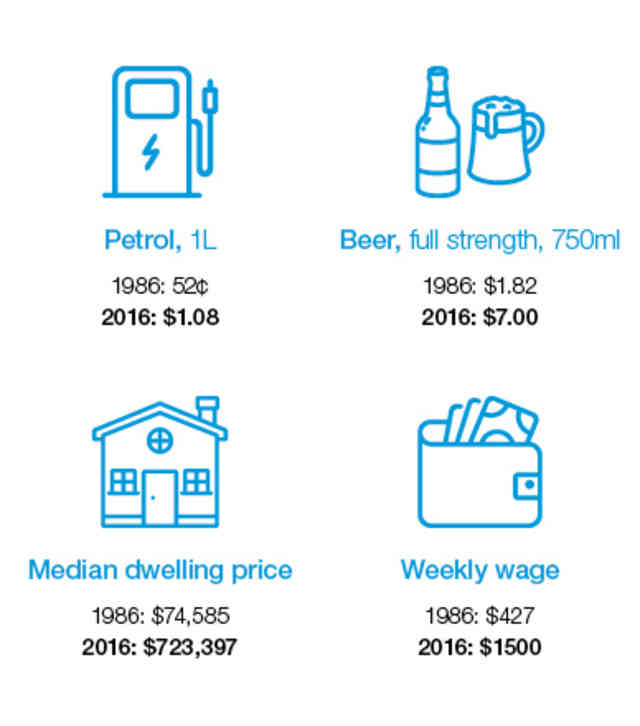 Sources: 1986 grocery prices and weekly wage: Australian Bureau of Statistics; 2016 grocery prices: Coles supermarket; Dwelling prices: national median weighted average of 6 capital cities, BIS Shrapnel.
Not economically savvy? Not to worry, this short guide will help you learn the basics on the economy and improve your financial know-how.
Need more money, more time or more information? Investing is easy once you take the first step.
Invest how you want, when you want with a BT Invest expertly managed portfolio, or you may like to consider one of five managed portfolio options.
This information is current as at 1/11/2016.

BT Portfolio Services Ltd ABN 73 095 055 208 AFSL 233715 (BTPS) is the operator of BT Invest. BT Funds Management Limited ABN 63 002 916 458 AFSL 233724 (BTFM) is the issuer of BT Cash. Westpac Financial Services Ltd ABN 20 000 241 127 AFSL 233716 (WFSL) is the issuer of BT Managed Portfolios (together, the BT Invest Products). An Investor Guide is available for BT Invest and a PDS is available for BT Cash and BT Managed Portfolios and can be obtained by calling 1300 881 716, or visiting bt.com.au. You should obtain and consider the relevant disclosure documents before deciding whether to acquire, continue to hold or dispose of interests in the BT Invest Products.

BT Portfolio Services are subsidiaries of Westpac Banking Corporation ABN 33 007 457 141 (Westpac). Apart from any interest investors may have in Westpac term deposits or Westpac securities acquired through BT Invest, an investment in, or acquired using BT Invest, is not an investment in, deposit with or any other liability of Westpac or any other company in the Westpac Group. These investments are subject to investment risk, including possible delays in repayment of withdrawal proceeds and loss of income and principal invested. Westpac and its related entities do not stand behind or otherwise guarantee the capital value or investment performance of any investments in, or acquired through, BT Invest.

This information has been prepared without taking account of your personal objectives, financial situation or needs. Because of this you should, before acting on this information, consider its appropriateness, having regard to your objectives, financial situation and needs.

This Information may contain material provided directly by third parties and is given in good faith and has been derived from sources believed to be accurate at its issue date. It should not be considered a comprehensive statement on any matter nor relied upon as such. While such material is published with necessary permission, no company in the Westpac Group accepts responsibility for the accuracy or completeness of, or endorses any such material. Except where contrary to law, we intend by this notice to exclude liability for this material.