Millennials often get a bad rap when it comes to saving and spending habits. But does the stereotype about wasting away money on smashed avocado really hold true?

Who are the Millennials?

Millennials (also known as Gen Y) is the generation born between 1980 and 1999. It's a cohort whose famous members include Ryan Gosling, Cristiano Ronaldo, Taylor Swift, Jennifer Lawrence, Justin Beiber, and Emma Watson.
Millennial money management
Despite conventional wisdom suggesting that Millennials are frittering away their money, research by BT shows that Millennials take their financial matters seriously. The BT Australian Financial Health Index – a comprehensive analysis of the financial wellbeing of Australians compiled from surveying over 4,000 people1 - showed Millennials are more financially prepared than Generation X. Nearly half (49%) of the Millennials surveyed stated they always or often create plans to reach their financial goals, in contrast to 39% of Generation X respondents.
However, despite being financially prepared, Millennials still have money habits they need to curb with 18% reporting they always or often spend more money than they have, compared with just 10% of Gen Xers.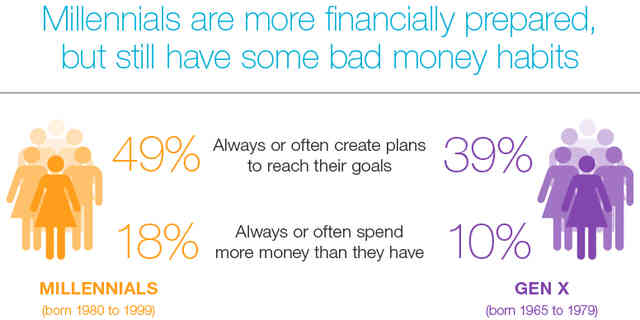 Source: BT 2016 Australian Financial Health Index
It's not how much you earn, but how you put it to use
BT Head of Financial Literacy and Advocacy, Bryan Ashenden says income levels have no significant bearing across attitudes to debt, with similar levels of concern across low and high incomes. "No one is immune, we all have worries about our money from time to time, but what can make a difference is to put steps in place, so that we worry less," said Mr Ashenden.
5 tips to help relieve stress and manage your money
1. Crunch the numbers
The best way to stay on top of your finances is to know what is coming in and going out each month. There are plenty of online calculators that can help.
2. Get a handle on debt
Knowing exactly what you owe and how much it is costing you is the first step. Can you consolidate loans to get a better interest rate?
3. Create a savings plan
Even if you can only save a small amount, accumulating savings for unexpected expenses can create peace of mind.
4. Consider your super
Saving into super is how you can afford to live in retirement. The earlier you start to build your super balance, the more chance your savings have to grow.
5. Seek professional advice
Financial advisers can help you identify your financial and lifestyle goals, design a plan, help you stick to the plan, and make changes to the plan if your circumstances or goals change.
Define your future. Need help with options to get there? Contact us to arrange to speak to a BT Adviser.
1. The BT Australian Financial Health Index covers Australians' attitudes and behaviour across a broad spectrum of financial needs. The Index provides insights from a comprehensive analysis of the financial wellbeing of Australians – their financial situation, managing finances, saving and spending, retirement and super, insurance and investments. The Index is compiled from surveying over 4,000 (18+) Australians. The data is weighted to ensure representation of the Australian population in accordance with census data provided by the Australian Bureau of Statistics. The 2016 BT Australian Financial Health Index canvassed the responses from 4486 Australians in November 2016.
We talked to some young adults to find out what they know (or don't know) about super.
At 25, Nate Johnstone already owns an investment property in Sydney, and is open to advice on his next steps - career-wise and also financially.

This information is current as at 1 July 2017. 
This information has been prepared without taking account of your personal objectives, financial situation or needs. Because of this you should, before acting on this information, consider its appropriateness, having regard to your objectives, financial situation and needs. This information provides an overview or summary only and it should not be considered a comprehensive statement on any matter or relied upon as such.
This article may contain material provided by third parties derived from sources believed to be accurate at its issue date. While such material is published with necessary permission, no company in the Westpac Group accepts any responsibility for the accuracy or completeness of, or endorses any such material. Except where contrary to law, we intend by this notice to exclude liability for this material. 
The tax position described is a general statement and is for guidance only. It has not been prepared by a registered tax agent. It does not constitute tax advice and is based on current tax laws and our interpretation. Your individual situation may differ and you should seek independent professional tax advice.  
Superannuation is a means of saving for retirement, which is, in part, compulsory. The government has placed restrictions on when you can access your investment held in superannuation. The Government has set caps on the amount of money that you can add to superannuation each year on both a concessional and non-concessional tax basis. There will be tax consequences if you breach these caps. For more detail, speak with a financial adviser or visit the ATO website. 
© BT Financial Group 2017.