The market sell-off in March was extreme

The declines in markets during March represented in an historical sense, the quickest and sharpest falls investors have ever witnessed.
Whilst the absolute magnitudes of the declines so far are in line with many historical event-driven bear markets, the key difference this time has been the speed of decline.
Considering the US S&P 500 Index peaked the week of 17 February, it only took 16 trading sessions for the index to fall 20%, which is almost twice the speed of the prior fastest recorded crash of 1929.
Volatility has been another point of difference, with the VIX index (a measure of market volatility) recently hitting an all-time high, surpassing even the highs experienced throughout the 2007/08 financial crisis. In the later part of March, there were three consecutive days of moves +/- 9% in magnitude for the S&P 500 - for the first time since 1929.
The sell-off has also seen some of the highest proportion of assets underperform cash on a monthly basis for the first time in over 30 years, and so this has also been particularly challenging for multi-asset portfolios given the lack of traditional diversification from defensive assets (Bonds, Gold and the Japanese Yen have not provided their historical correlation benefits so far during this event).
Investors have only experienced such a lack of diversification 13 other times dating back to 1987. This has been triggered by the combination of an unexpected growth shock and a real yield shock, both additionally impacted by a sharp fall in energy prices which has destroyed what was a soft recovery of inflation expectations at the beginning of this year.
The structural decline in inflation (and inflation volatility) of the past 30 years or more, which also resulted in the decline in real bond market yields, had helped increase valuations across assets due to an intense search for yield1. Now, with bond yields at all time lows, there is little space for bonds to buffer further equity drawdowns as historically has been the case.


Figure 1a. Asset class returns to 31 March 2020
The depth of the market sell-offs across all asset clases as at the end of March is evident in the chart below.
The degree of the market falls was felt across even the defensive asset classes, being traditional Fixed Interest (Bonds).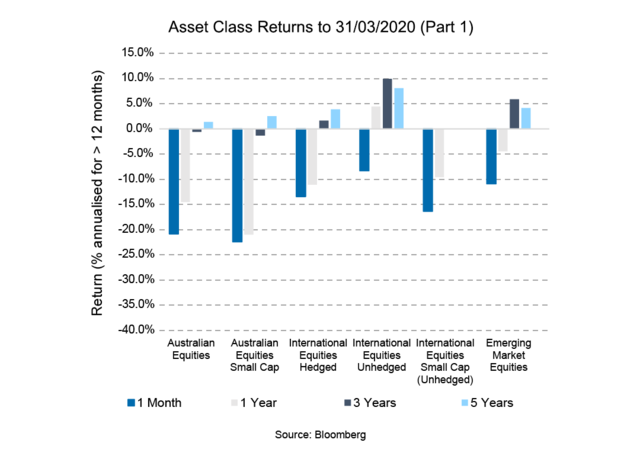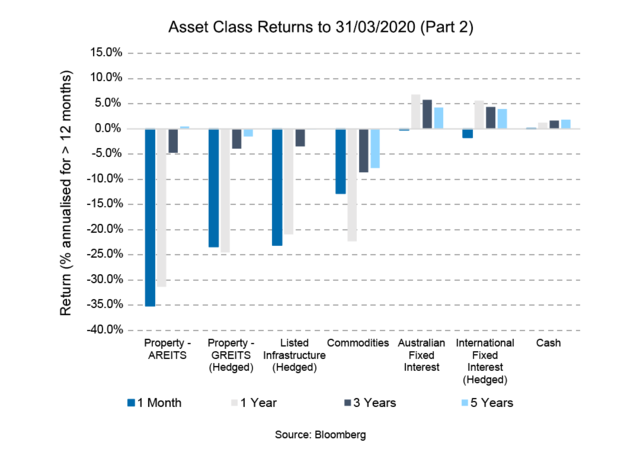 Global Central Banks and Governments have mobilised to prepare for expected downturn
A third of the global population, including over 19 countries, have now announced complete lockdowns including Australia, India, U.K., the majority of the European Union, New Zealand and Poland.
Many states in the U.S. have closed their borders so far, with further increases expected2. Following restrictions on citizens, governments have mobilised growing aid packages, with the latest indications the U.S. is to support a spending package in the magnitude of nearly USD 2 trillion for both individuals and companies.
The substantial fiscal aid packages have also been supplemented by slashing cash rates and implementing various forms of quantitative easing by Central Banks, including the RBA which has now guaranteed purchases for 3yr Bonds at 0.25%. The swift move in policy easing, reflects the need to offset the significant and sharp deterioration in global financial conditions and activity.
The reason for such significant policy measures has been to combat the massive shut down in economic activity enforced by governments in an effort to curtail the spread of the virus. A global recession for the first half of 2020 is now a foregone conclusion with estimates of global GDP contracting by up to 12% annualised3 being the largest fall in quarterly global activity in near 50 years. Unemployment is tipped to double to near 10% in Australia and over 6% in the US. Given the speed of change it is not illogical to believe that economic activity could also re-accelerate in a similar fashion leading to a 'V' shaped event.
The speed and type of recovery however is likely to be significantly correlated to the duration of the current outbreak and how quickly it can be contained. The policy measures now being implemented will help soften the impact to economies and financial markets in the coming months. Considering the experience of China, the epicentre of the current crisis, active infections are now near one-tenth of their peak level considered to have been in late February/early March. High frequency data also provides anecdotal evidence that China's economic activity is beginning to return to normal levels following the sharp reductions in quarter 1.
Whilst the rest of the world is now contending with containment of a pandemic, there is some evidence to suggest if contained, a recovery this year remains firmly possible.
Portfolio Implications
This is indeed a unique and unprecedented event. The pace of declines and speed in the shut down of economic activity globally has seen short-term uncertainty rise to extremes which has manifested in extreme price swings on financial assets. The announcements seen by policy makers over the past two weeks will provide significant support in cushioning the down-turn currently underway but short-term uncertainty remains elevated for the coming weeks. For multi-asset investors a further challenge has been the level of indiscriminate selling over the past weeks which has seen little protection from asset diversification. Such dislocations however provide opportunities for long-term investors to capitalise on.


1. Goldman Sachs – Portfolio Strategy Research GOAL publications
2. Barclays Global Research
3. JPMorgan Markets; 'Implications of COVID-19 23/03/2020'
This document has been created by Westpac Financial Services Limited (ABN 20 000 241 127, AFSL 233716). It provides an overview or summary only and it should not be considered a comprehensive statement on any matter or relied upon as such. This information has been prepared without taking account of your objectives, financial situation or needs. Because of this, you should, before acting on this information, consider its appropriateness, having regard to your objectives, financial situation and needs. Projections given above are predicative in character. Whilst every effort has been taken to ensure that the assumptions on which the projections are based are reasonable, the projections may be based on incorrect assumptions or may not take into account known or unknown risks and uncertainties. The results ultimately achieved may differ materially from these projections. This document may contain material provided by third parties derived from sources believed to be accurate at its issue date. While such material is published with necessary permission, Westpac Financial Services Limited does not accept any responsibility for the accuracy or completeness of, or endorses any such material. Except where contrary to law, Westpac Financial Services Limited intends by this notice to exclude liability for this material.
The responsible entity for the Multi-Blend Funds named in this document (Advance Funds) is Advance Asset Management Limited ABN 98 002 538 329 AFSL 240902. A Product Disclosure Statement or other disclosure document (PDS) for the Advance Funds can be obtained by contacting BT on 132 135 or by visiting http://www.advance.com.au. You should obtain and consider the relevant PDS before deciding whether to acquire, continue to hold or dispose of interests in the Advance Funds. An investment in an Advance Fund doesn't represent an investment in, deposit with, or other liability of Westpac Banking Corporation ABN 33 007 457 141 AFSL and Australian credit licence 233714 (Westpac) or any other member of the Westpac Group. It is subject to investment risk, including possible delays in the payment of withdrawals and loss of income or capital invested. No member of the Westpac Group (including Advance) stands behind or otherwise guarantees the capital value or performance of the Advance Funds. Past performance is not a reliable indicator of future performance.
Information current as at 6 April 2020. © Westpac Financial Services Limited 2018.