As more Australians invest their retirement savings in SMSFs1, new research shows greater diversification of portfolios is needed, with only one in five advisers considering all their SMSF client portfolios well diversified.
Diversification is the number one priority for SMSF advisers when selecting investments (78 per cent cite this). This is followed by capital growth (48 per cent), capital preservation (45 per cent), liquidity (42 per cent) and product costs (41 per cent), according to new research from BT Financial Group (BT) and the SMSF Association (Association).
The 2018 SMSF Insights Paper, undertaken by Investment Trends and commissioned by BT and the Association, says that while advisers largely agree (97 per cent) it is important for their SMSF clients to be well diversified across different investment types, this is not reflected in all SMSF client portfolios.
BT's Head of Adviser Distribution, Jo Moxey, says advisers see their ability to offer well diversified portfolio construction as a key part of their value proposition. And SMSF specialists can provide trustees with critical guidance on the benefits of diversification and the risks of not getting it right.
Across their entire SMSF client base, almost three quarters of advisers (73 per cent, on average) believe their SMSF clients hold well diversified portfolios, which means there are opportunities to help the remaining 27 per cent of their SMSF clients to better diversify their investments.
Association CEO John Maroney says the evolution in SMSFs continues with close to 2,000 new funds being established each month and 154,050 trustees projected to move into retirement within five years2.
"Now, more than ever, advisers of SMSFs have a significant role in helping trustees to meet their legal obligations, navigate regulatory change and embrace the importance of a diversified portfolio, as well as understand what constitutes diversification."
While advisers universally agree on the importance of diversification, 62 per cent find it difficult to diversify their SMSF client portfolios, compared to their non-SMSF client portfolios.
Mr Maroney says that while direct property has become a real drawcard for SMSFs, property investments often have greater value when compared to the client's overall portfolio, and this may affect the ability to fully diversify client portfolios.
The majority of advisers agree that managed funds form the bedrock foundation of a diversified portfolio. According to the research, three in four believe a portfolio invested entirely in managed funds meets their diversification needs.
Close to nine in ten (89 per cent) consider a portfolio of managed funds, direct shares and property to be diversified, while 87 per cent believe investments across four or more asset classes is ideal.
While managed funds and exchange traded funds (ETFs) can both provide access to a broad range of assets, under half of SMSF advisers (47 per cent) say an ETF-only portfolio is sufficiently diversified.
And many advisers (64 per cent) recognise that a portfolio of 30 individual stocks may not provide sufficient diversification.
Ms Moxey says "Diversification can be achieved in a variety of ways, but having access to a broad range of investment options is vital. BT Panorama provides advisers and their clients access to cash, term deposits, direct equities, ETFs, managed accounts and more than 500 managed funds. As well as the ability to see any SMSF assets held off-platform."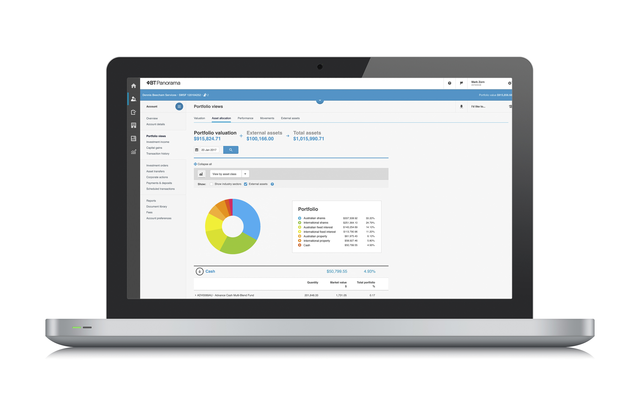 Close to nine in ten SMSF advisers (89 per cent) believe that product manufacturers and service providers can help them achieve their desired level of diversification in SMSF portfolios. The most popular ways cited to achieve this are providing illustrative tools that demonstrate the benefits of diversification (56 per cent) and the potential risks of inadequate diversification (49 percent).
BT Panorama offers trustees access to an extensive range of investment options with the benefit of allowing their adviser and accountant access to collaborate and view their portfolios in real-time.
"We are proud to partner with the SMSF Association to provide useful insights to advisers on how to best serve their SMSF clients," said Ms Moxey.
The research is part of a four year partnership between the two organisations to support SMSF trustee and adviser education, the value of advice and collaboration to optimise Australian SMSF retirement outcomes.
About BT
BT Financial Group has been helping Australians prepare for the best since 1969. Today BT Financial Group helps thousands of customers find superannuation, investment and insurance solutions to suit their personal needs and goals. They're also a specialist in financial advice. BT Financial Group is the wealth management arm of the Westpac Group.
About SMSF Association
The SMSF Association is the peak professional body representing the self-managed superannuation fund (SMSF) sector which is comprised of 1.1 million SMSF members who have over $720 billion of funds under management and a diverse range of financial professionals servicing SMSFs. The SMSF Association continues to build integrity through professional and education standards for advisers and education standards for trustees. The SMSF Association consists of professional members, principally accountants, auditors, lawyers, financial planners and other professionals such as tax professionals and actuaries. Additionally, the SMSF Association represents SMSF trustee members and provides them access to independent education materials to assist them in the running of their SMSF. 
About Investment Trends
Investment Trends is a specialist financial services market research organisation providing business insights and decision support information to many of the world's leading financial services organisations. They combine analytical rigour and strategic thinking with the most advanced market research and statistical techniques to help their clients gain competitive advantage. As a company they aim to improve the lives of millions of investors by making the whole financial services industry better. 
About the research
The BT/Investment Trends SMSF Planner Research Paper details the results of a short quantitative online survey of financial planners conducted between February and March 2018.
Total responses after data cleaning and validation: n=163 financial planners, including RG146 compliant accountants and principals/business owners who personally provide advice to clients with an SMSF (referred throughout this report as 'SMSF planners'). The maximum sampling error (centre of the range) at the 95 per cent confidence interval for this sample is +/-7.6 per cent.
The breakdown of the total 163 respondents are as follows:
SMSF generalists (1 to 20 SMSF clients)  110
SMSF specialists (20+ SMSF clients)  53  
1. ATO Self-managed super fund statistical report – June 2017 – 30,540 new funds established in the year to June 2017 and a large decrease in windups. There were 6,078 windups versus 11,100 the previous year.

2. ATO Self-managed super fund statistical report – June 2017 - 1,124,453 SMSF members in Australia and 13.7 per cent of these members were aged between 60-64 years.