BT Financial Group and the Australian Fashion Council (AFC) are proud to announce Albus Lumen, by Sydney based designer Marina Afonina, as the winner of the BT Emerging Fashion Designer Award 2018.
Albus Lumen was announced the winner at the BT Runway 2018 event on Wednesday evening, 28 March, by Kellie Hush, Editor-in-Chief Harper's BAZAAR and AFC Board Director.
"Marina Afonina has an amazing fashion eye, as a stylist and fashion designer, so it's not surprising that her fashion label Albus Lumen has won the 2018 BT Fashion Designer Award. Albus Lumen is chic, timeless and delivers classic pieces, such as cigarette pants and cashmere sweaters, that every woman wants to wear season after season."
Kellie Hush, Editor-in-Chief, Harper's BAZAAR Australia
A testament to the innovative design talent that continues to grow in our local industry, the evening saw the three finalists; Albus Lumen, Double Rainbouu and Anna Quan, showcase their collections as part of the exclusive fashion show, alongside eight of Australia's leading designers; Bianca Spender, CAMILLA AND MARC, Carl Kapp, Carla Zampatti, Dion Lee, Ginger & Smart, Manning Cartell and Toni Maticevski.
The BT Emerging Fashion Designer Award 2018
Now in its sixth year, Marina joins the ranks of Australian designers to take home the prestigious fashion design award, including; Kacey Devlin (2017), macgraw (2016), Emma Mulholland (2015), Michael Lo Sordo (2014) and Christopher Esber (2013).
The award was established by BT Financial Group with the goal of identifying emerging designers and providing support in the form of financial advice and mentoring. Six years on, the initiative continues to help Australia's emerging talent grow their wealth both personally and professionally.
"BT is proud to help support emerging talent in Australia's fashion industry and to demonstrate the value of financial advice as an important factor of success for these designers, as they take their business to the next level. Congratulations to the 2018 BT Emerging Fashion Designer winner, Albus Lumen."

Jane Watts, General Manager, Advice & Private Wealth, BT Financial Group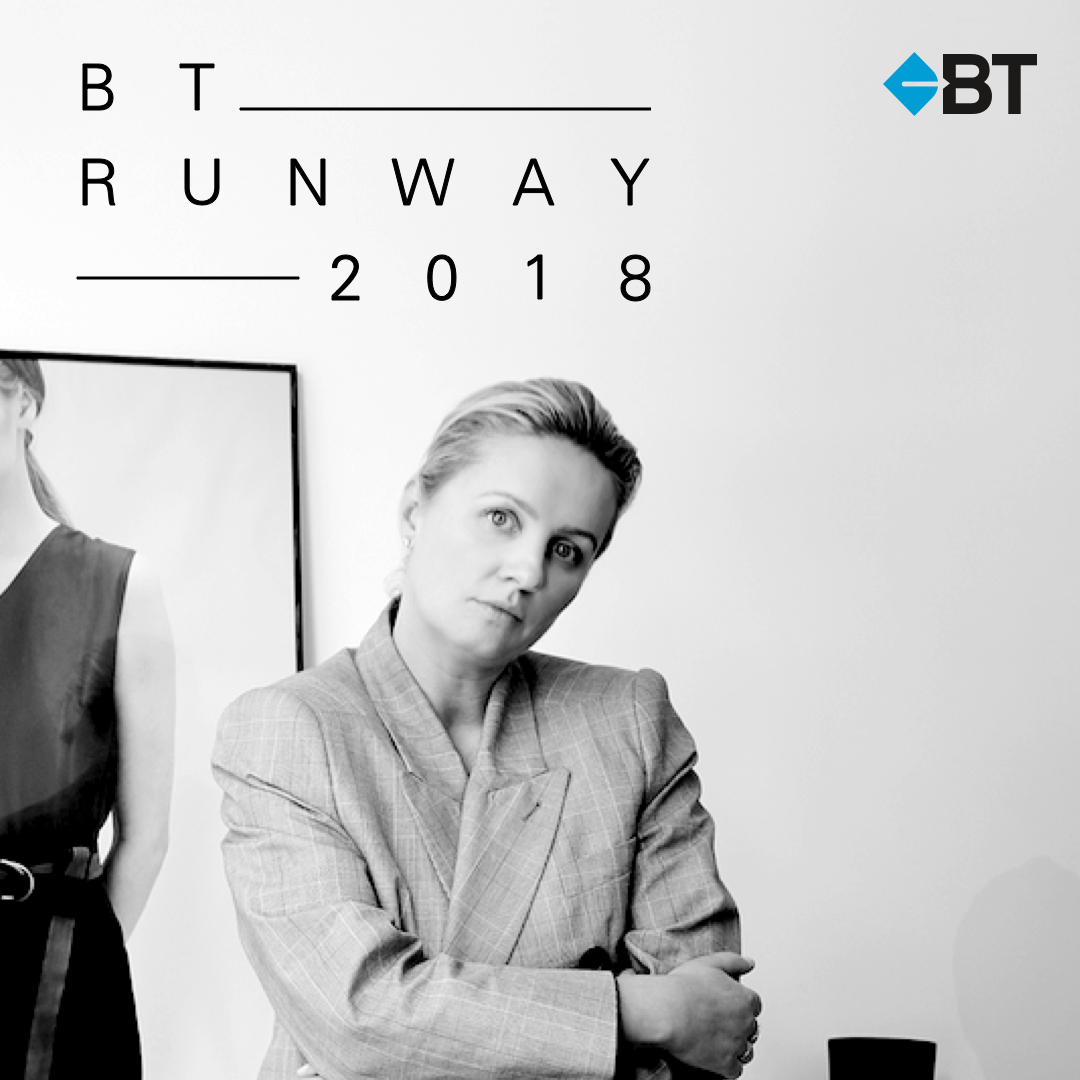 The Judges
The three finalists; Albus Lumen, Double Rainbouu and Anna Quan, were chosen by a panel of industry experts, who were tasked with the challenge of selecting this year's winner. The panel included; Editor-in-Chief, Vogue Australia and AFC Board Director Edwina McCann, designer Camilla Freeman-Topper of CAMILLA AND MARC, creative director Amanda Shadforth of Oracle Fox, Australian stylist Caterina Scardino; and Rebecca Lim, Westpac Group Executive, Compliance, Legal & Secretariat.
The Prize
Thanks to BT Financial Group and a host of Industry supporters, as the winner of this year's award, Albus Lumen will receive a prize package valued at over $70,000 including;
A $10,000 cash grant and two years of financial planning services provided by BT Financial Group
Accounting and business advisory services for two years provided by Bentleys NSW
A look book styled and produced by Vogue Australia
Two return Club Class flights to London provided by British Airways
A one year subscription with new media content business, Flaunter
Two mentoring sessions with two fashion industry icons provided by the AFC
TONI&GUY Australia will proudly sponsor the winner's hairdressing needs including: access to their National Artistic Team for two major fashion events, two look book or editorial shoots and three months' worth of
hairdressing at TONI&GUY Head Office
The Australian Fashion Council
The BT Emerging Fashion Designer Award and the BT Runway 2018 event are fantastic opportunities for our local emerging designers, and an indication of the outstanding innovation and design talent coming out of Australia. Both BT Financial Group and the AFC were impressed by the calibre of entries for this year and wish to congratulate each of the well-deserved finalists. We look forward to supporting Marina in the growth of her label and can't wait to see
what the future has in store.
"The BT Emerging Fashion Designer Award is a fantastic recognition of the high calibre of emerging contemporary Australian designers. Supporting new and cutting edge designers, in ways like this, is vital in developing the growth of this exciting industry."
David Giles-Kaye, CEO, Australian Fashion Council
About | BT Financial Group
BT Financial Group has been helping Australians prepare for the best since 1969. Today BT Financial Group helps thousands of customers find superannuation, investment and insurance solutions to suit their personal needs and goals. They're also a specialist in financial advice. BT Financial Group is the wealth management arm of the Westpac Group.
The BT Emerging Fashion Designer Award has been an important initiative for BT Financial Group, providing a platform to support emerging talent to reach their full potential by investing in and mentoring the growth of Australian designers.
BT Financial Group are delighted to continue their partnership with the Australian Fashion Council, as an organisation that promotes the growthof Australian design talent and the strengthening of the Australian fashion economy on a local and global scale.
W | www.bt.com.au/btrunway FB | @BTFinancial IN | @BT_Financial #BTRunway
About | Albus Lumen
Marina Afonina's label Albus Lumen (meaning 'white light' in Latin) was a reaction to a gap in the Australian market for luxury resort wear with a premium placed on effortlessness. With influences that include Slim Aarons book Poolside, vintage photographs of Brigitte Bardot in St- Tropez and Romy Shneider in "The Swimming Pool" movie set, Afonina explains the label's mood as a minimalist traveller heavily inspired by European Summer.
The Albus Lumen aesthetic is uncomplicated luxury and effortless style, featuring simple shapes and classic modernity to create subtle yet striking contrasts. Using only natural, quality fabrics, such as silk and cotton linen blends, these are realised in artful drapery and deconstructed utility.
Launched mid-2015, Albus Lumen has already gained a wide following, with celebrity wearers including the likes of Elle MacPherson, Lara Worthington, Tessa James and Elsa Pataki.
W | www.albuslumen.com FB | @albuslumen IN | @ albuslumen #AFCMember
About | Australian Fashion Council
The Australian Fashion Council (AFC) is a non-profit membership organisation with over 65 years of service to the industry, collaboratively working to promote the growth of the textile & fashion industry in Australia. AFC activities and projects act to support these 5 Growth Pillars; strengthening Supply Chains, fostering Design & Innovation, promoting Ethical Practice, supporting Emerging Business and building Australian Export.
W | www.ausfashioncouncil.com FB | @ausfashioncouncil IN | @ausfashioncouncil #AusFashionCouncil
More Information
Lisa Parrett
Media Relations Manager
BT Financial Group
M: 0432 933 796
E: Lisa.Parrett@btfinancialgroup.com