BT and St.George are proud to sponsor 'Gaybies: We are not a hypothetical' a public photo exhibition presented by Gayby Baby and Head On Photo Festival that will run throughout this year's Sydney Gay and Lesbian Mardi Gras Festival.
The exhibition features 12 portraits of children of LGBTI parents and runs until Tuesday 8 March 2016, outside Sydney Town Hall.
Children of LGBTI parents regularly face the challenge of growing up hearing their families criticised within the broader community. The exhibit aims to increase the visibility and ultimately understanding of children, teens and young adults growing up with LGBTI parents in Australia, and to convey how beautiful and diverse modern Australian families are.
Brad Cooper, BT Financial Group CEO and Executive Sponsor of GLOBAL, Westpac Group's employee action group for LGBTI employees and their allies said he was delighted to support the exhibition because it helps to provide a platform for children of same‐sex couples to share their perspective, one that is often overlooked.
"This sponsorship is part of our commitment to diversity and inclusion in the Westpac Group, further demonstrating our support for LGBTI employees, customers and communities," concluded Mr Cooper.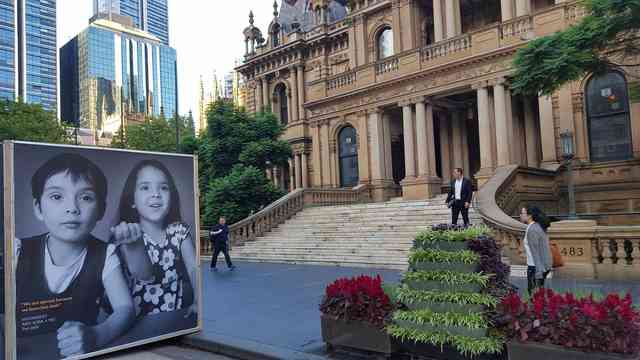 More information about the exhibition:
The 2015 documentary, Gayby Baby by Maya Newell and Charlotte Mars was influential in launching recognition of 'Gaybies' and the inspiration for this exhibition.
The public art exhibition is by renowned British fashion photographer, Jez Smith (Australia's Next Top Model judge) with artist and model, Casey Legler (first female model to exclusively sign on the men's books of Ford Models) in collaboration with Gayby Baby.