When it comes to investing, a lot of focus is placed on how much money a company makes. It can be just as valuable to know how a company makes its money. Here we explore how a sustainable investment approach could help identify risks and potentially deliver long-term value.
What is sustainable investing?
Sustainable investing is a long-term investment approach that incorporates environmental, social, and governance (ESG) factors into the investment process. It's an approach to investing that can assist to reveal broader risks and help to identify potential opportunities. ESG factors, at times, have also been known to affect the risk and return of investments.
Some investors want to know they are investing in companies rated as having strong sustainable practices. Others see ESG as a set of factors often overlooked in traditional analysis that should be incorporated for a more complete assessment of an investment.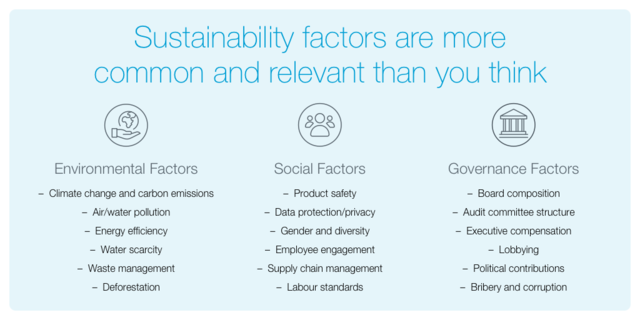 Management of ESG factors by a company could affect its performance
Investors typically look for companies positioned for long-term success. How a business operates – ethically, environmentally and socially – can provide an indication as to whether it is prepared to manage ESG risks.
For example, the 2010 oil spill in the Gulf of Mexico caused BP's share price to fall sharply and reinforced the need to analyse ESG performance indicators. When South African mining company Lonmin experienced a breakdown in its relationships with its workforce in 2012, it caused significant and direct impact on the company's financial performance. And governance issues relating to Enron's balance sheet contributed to the company's bankruptcy in 2001 resulting in severe losses for shareholders.
A sustainable investment approach may help to identify risks associated with ESG factors that can potentially impact long-term investments.
It's not just about being ethical or socially responsible
Some investors choose not to invest in certain companies based on ethical grounds - for example taking a stance against investing in tobacco. This approach is called ethical or socially responsible investing. Sustainable investing, on the other hand, is also motivated by financial goals, aiming to identify potential value and/or manage risks by comparing companies based on how they manage key ESG factors.
Where can you learn about the sustainability of investments?
BT is committed to providing insights and information to help you make more informed investment decisions. Some of BT's investment and superannuation products provide you with access to sustainability scores for investments – a set of scores which can help to compare a company's performance in relation to ESG factors. The scores, which are provided by third party research houses, are available for ASX200 listed companies and managed funds invested primarily in Australian and international shares.
Sustainability scores are not an evaluation of an investment's financial performance, and do not provide an assessment of overall investment merit. Sustainability scores should only be used in conjunction with other measures for a more complete approach to investment portfolio construction.
Find out more about sustainable investing at BT.
Want to make the call on sustainable investing in your super? Think super. Now rethink it. Choose how your money is invested in shares, managed funds, ETFs and more with BT Super Invest. It's super. Reimagined. Find out more.
Find out the Aussie icons and traditions that you could invest in for your portfolio.
Businesses that fail to innovate are at risk of being usurped by smaller, more agile players. Here are four examples of little companies that have proven the theory.
This information has been prepared by BT Portfolio Services Ltd ABN 73 095 055 208 (BTPS) and is current as at 21/03/2017.

The information provided is general in nature and does not take into account your objectives, financial situation or needs. Because of this you should, before acting on this information, consider its appropriateness, having regard to your objectives, financial situation and needs. Past performance is not a reliable indicator of future performance.

BT Portfolio Services Ltd ABN 73 095 055 208 (BTPS) administers Panorama Super. BTFM is the trustee and issuer of Panorama Super, which is part of Retirement Wrap ABN 39 827 542 991. BT Super Invest is part of Panorama Super. A Product Disclosure Statement (PDS) for BT Super Invest can be obtained by contacting BT on 1300 881 716 or by visiting www.bt.com.au/superinvest. You should obtain and consider the PDS before deciding whether to acquire, continue to hold or dispose of interests in BT Super Invest.

BTPS and BTFM are subsidiaries of Westpac Banking Corporation ABN 33 007 457 141 (Westpac). Apart from any interest investors may have in underlying bank accounts held at Westpac through their cash account, Westpac term deposit products or Westpac securities acquired through BT Super Invest, an investment in, or acquired using, BT Super Invest is not an investment in, deposit with or any other liability of Westpac or any other company in the Westpac Group. Investments in BT Super Invest are subject to investment risk, including possible delays in repayment of withdrawal proceeds and loss of income and principal invested. Westpac and its related entities do not stand behind or otherwise guarantee the capital value or investment performance of any investments in, or acquired through, BT Super Invest.