Every so often, a product emerges that meets a range of pressing needs in its marketplace.
In financial services, that product is managed accounts. The main difference between a managed account and managed fund being that the client owns the individual assets directly, rather than in a pooled unit trust.
With the investment advisory market facing pressure to be more transparent and to provide investment products that are cheaper, yet which better allow advice practices to meet their compliance requirements, managed accounts are a contemporary solution perfectly suited to these precise times.
Managed accounts are a more efficient investment product than predecessors. As with all good technological advancement, they come with an inbuilt win-win proposition: by moving the construction and monitoring of investment portfolios from a manual process, individualised for each investor, to an aggregated structure in which all clients are treated the same – without surrendering individual beneficial ownership of the assets/ securities – everyone wins.
The advice market is recognising this, with the take-up of managed accounts burgeoning. Investments Trends reports that 35% of financial advisers used managed accounts last year, up from 30% the previous year. This growth was more apparent among independent advisers, rising from 37% to 47% over the same period1. At BT, we believe that this profound market shift will increase and intensify as advisers and clients continue to realise the benefits of using managed accounts.
For the investor, when compared to implementing individual investment strategies, the win comes through getting a professionally selected and managed portfolio that is rebalanced or changed when it needs to be, in real-time, in a structure that is transparent, tax-efficient and portable. Simultaneously, the adviser gets a structure that is more efficient, often cheaper to implement, fairer to all clients, and which enables them to more easily meet their compliance requirements, while delivering more consistent portfolio outcomes for their clients – and which allows them to demonstrate value to these clients, more effectively than ever before. In particular, managed accounts' ability to solve the problem of "execution lag" – where it has not hitherto been physically possible to make required changes to each client's portfolio in a timely manner.
Market voting with its feet
This is why we are seeing the adviser market vote with its feet.
According to the most recent Institute of Managed Accounts Professionals (IMAP) funds under management (FUM) census, as at December 2018 FUM in managed accounts stood at just over $62 billion. Despite a flat result from June to December 2018, the net inflow for the 12 months to December 2018 was a healthy $2.5 billion, representing a 4% increase on total FUM2.
This was a better result than it appeared, given the dual headwinds experienced over this time – this was prior to the release of the recommendations of the Banking Royal Commission, and would also have been affected by an extremely volatile market during the period, with a large stock market pullback in December 2018.
The increased interest in managed accounts is also shown by the number of platforms that offer them. In the last ten years this has grown from just three platforms to 16 at present, with 71% of advisers using platforms that offer some form of managed account solution3.
Not only are more advisers using managed accounts they are also deepening their usage, with current users tripling their inflows into managed accounts in the last five years alone4.
Investments Trends also looked at the key business challenges faced by advisers. Its latest research shows that compliance burden remains the top challenge faced by advisers (70% cite this) but significantly more are facing obstacles in providing affordable advice (43%, up from 33% in 2018) and reducing the cost of advice (39%, up from 27%)5.
We believe that managed accounts could help advisers with these concerns, enabling them to demonstrate the value that they add to these clients more effectively than ever before.
The importance of win-win
The demand and usage of managed accounts is growing because of their win-win nature – while they have mostly been recommended for the transparency, tax-efficiency and portability they give a client, other benefits have since become apparent – particularly for the adviser or practice implementing a managed accounts solution within their business.
Some of the major benefits that managed accounts bring at the practice level are as follows:
Consistent portfolio outcomes – clients' holdings are rebalanced, and transactions can be placed in 'real time'. This means that clients could hold their investment manager's optimal portfolio at all times – rather than being implemented at review time or when the client gives consent – which should hopefully deliver the best performance outcome. For example, Separately Managed Accounts from BT have daily rebalances which rebalance client portfolios back to target based on rebalance triggering events such as model edits or applications/redemptions.
Cheaper delivery of advice – with the cost of advice rising, impacting profitability and business valuations, any product with the potential to increase business net revenue (through reduced costs from business efficiencies or streamlined processes, for example) will be highly attractive to advisers.
Compliance, risk management and governance – as with other financial products, there is due diligence and investment governance required to meet compliance requirements. Managed accounts in many instances have a clear structure, process and governance overlay as they are generally run by specialist investment managers or in some cases the investment division of a licensee, and are generally implemented through a managed investment scheme (MIS) or managed discretionary account (MDA) structure with clear mandates, parameters and rules to manage the portfolio.
Investment Trends found that the top three reasons why advisers recommend managed accounts are:
They are the most effective way of implementing model portfolios;
They allow clients to see the underlying investments in a portfolio; and
They free up time to focus on other tasks.

These are not bland, "motherhood" statements. Advice businesses have been transformed by implementing and using managed accounts for their clients, with tangible improvements to their business efficiency, investment processes and client engagement. This is supported by recent reports from Investment Trends in which advisers stated that on average, they saved between 12.4 to 14.4 hours per week by using a managed account6.
Out with the old, in with the new
The prime benefit of managed accounts is moving from a relatively manual portfolio construction and review process to a much more automated process.
If we think about the traditional process of recommending and managing a direct investment portfolio for a client, whether the portfolio is constructed by the adviser or dealer group, or is a paper portfolio provided by a research house, essentially there is a defined series of steps to complete to ultimately implement the advice for the client. It looks like this: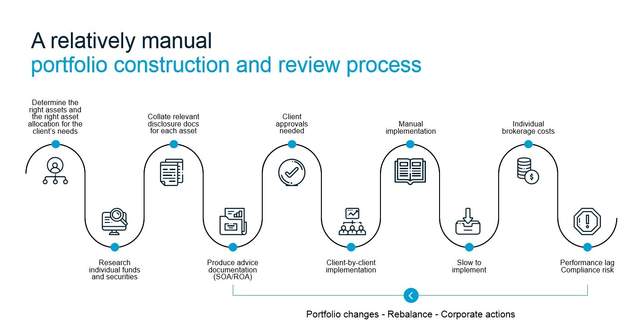 This is just the implementation stage. This may be fine for one client; it may even be OK for ten, or 20 clients; but there will come a point where the process no longer works efficiently, and the adviser may need to make trade-offs in order to accommodate all or as many clients as possible.
Does the adviser drop everything else in their business and spend a day or two implementing a portfolio change across the entire client base? Do they start by contacting the highest-net-worth clients first, and eventually get to the smaller clients, days later? How does that affect individual clients' investment outcomes? And is it effective use of the adviser's time?
And if a client isn't available or doesn't respond, does the adviser let them get out of line with other clients, or should the adviser simply exercise discretion and act on the change or corporate action? If so, what compliance and other risks does this introduce into the adviser's business?
Of course, such questions come on top of the complexity of monitoring and managing an increasing number of bespoke portfolios.
Where the pedal meets the metal – changing the advice business
If we then compare that same process – but instead of individually managing client portfolios and investments we substitute managed accounts, it looks more like this.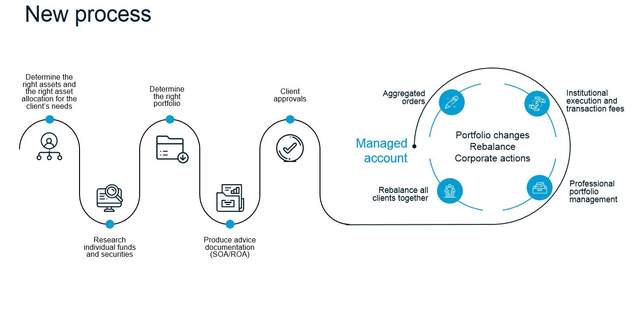 The adviser can achieve the same client experience – investing in direct investments – and the portfolios can be professionally managed, or still be managed (in some cases) by the licensee, adviser or research house. Many of the time-consuming elements that make the previous process so inefficient are now improved within the managed account structure.
This means that client approvals for ongoing changes or decisions within the portfolio are not required, and in fact may be implemented at the portfolio level in real time. Client portfolios are managed in real time and remain closely aligned to the target portfolio without diverging: all clients within a strategy receive the same investment and performance outcomes. In transactional terms, the orders are aggregated and executed at institutional rates, with no minimum volumes, keeping costs low.
The time saving benefits are tangible
By not having to produce advice for the ongoing management of portfolios, communicate changes or corporate actions to clients and chase them for their consent, the typical adviser will save a significant amount of time, time that can be utilised within the business for other more productive activities.
The time-saving benefits are neither anecdotal nor trivial – they can be quantified. In February 2018, Investment Trends asked advisers how much time they were saving across several investment management-related tasks, after implementing a managed accounts solution.
The answer came to 12.4 hours a week7. If you do the maths that equates to more than a day a week. That is more than a week per month, or two months per year in time saved.
This is where that 12.4 hours comes from.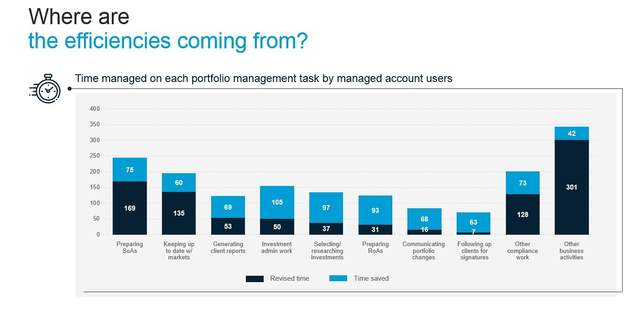 This chart shows the ten areas on which Investment Trends focused when they asked advisers how much time they spent on each task, before and after implementing managed accounts in their business.
Creating time – and time is money
Much of the upfront work remains the same when comparing a managed account solution to individually managing a number of client portfolios – while SOAs, ongoing compliance work and other business activities that support portfolio management are still required, advisers told Investment Trends that all of these aspects took less time.
It is when we focus on the other functions that are more related to the actual investment, following the implementation of managed accounts, that the most substantial time savings emerge:
Generating client reports – There is generally consolidated reporting provided by the platform for managed accounts, including portfolio valuation, income and expense reporting and tax and year-end statements, rather than the adviser having to compile the data from multiple sources and investments.
Investment administration work – when managed accounts are implemented, there is significantly less administration required, as the portfolio management occurs within the managed account structure with full consent from the client. Clients have full access to reporting and portfolio information as required.
Searching for and researching investments – this is done upfront at the managed account level: the investment manager is then responsible for the ongoing investment selection and management of the portfolio (within the mandated guidelines).
Preparing ROAs – unless switching managed accounts, in most cases an ROA will not be required for portfolio changes or corporate actions.
Communicating portfolio changes – the client agrees to full discretion of the portfolio management to the investment manager, which is required by the platform to operate within the mandated limits. Any communication on portfolio changes can be standardised and offered to all clients, while the adviser still maintains a "high-touch" sophisticated investment offering.
Following-up clients for consent – this tedious requirement virtually disappears, and will not be missed by either clients or advisers.

Some of these altered requirements yielded only small time savings, others larger, but it all adds up.

Every advice practice would have a good idea how this extra time could be used. It could enable them, for the first time in a long time, to work "on" their business rather than "in" it – for example, spending more time on client recruitment, or strategic planning. It could be directed to improved client engagement: longer, and deeper conversations.
The extra time could be directed to responding to the twin jaws of pressure on fees, and increasing costs: the adviser could choose to increase the number of clients being served and reduce the cost per client.
It could be invested in dealing better with increased regulation – such as compliance monitoring and staff education. That may not sound like the most attractive use of time, but it is important that time is spent on ensuring that clients' best interests are being met.
Or, the extra time could be applied to work-life balance, just getting some time back in the day, to spend more time on family, health and relaxation. All the things that often come up in the discussion of how personal development is just as important as professional.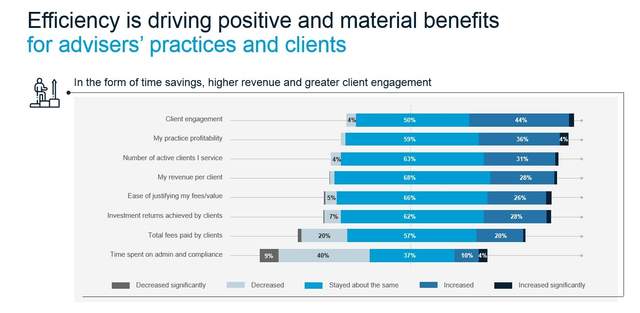 Again, Investment Trends has quantified the positive and material benefits that the greater efficiency of managed accounts is driving for advisers and clients. The benefits experienced by users cover a broad range.
More than 44% are seeing higher client engagement – managed accounts are freeing up time to spend on other client activities, whether that is face-to-face engagement, additional strategic planning or client functions. When compared to traditional unitised investments, managed accounts also encourage clients to become more engaged with their investments, meaning that the nature of the conversations that advisers have with their clients' changes. Clients no longer just see changes in unit-price value, but can see, understand and discuss the individual assets within their portfolio.
40% believe their practice is more profitable – stripping out the unnecessary and inefficient activities from their businesses has two benefits: there are cost savings, which leads to reduced costs to service the same client base, as well as the ability to increase the number of clients serviced. This can increase revenue – and with reduced costs, rising profit follows.
31% can service more clients – this follows from how the efficiency benefits deliver time savings, enabling more clients to be serviced, if the adviser chooses.
Advisers' revenue per client is higher, and they can more easily justify their fees and value proposition – this can be an important attribute in a post-Royal Commission environment, where clients are much more conscious of receiving value for the fees they pay.
Advisers report a reduction in the time spent on administration and compliance – given the complex regulatory environment in which the industry now operates, and the pressures this can place on the entire business, any time saved in relation to administration and compliance is of significant value .
Client engagement – the holy grail of financial advice
Lastly, we believe one of the most powerful things to emerge from Investment Trends' research is that the benefits of adopting managed accounts are not transitory or short-lived – we can clearly see that the longer an adviser uses managed accounts, the greater is the number of active clients they have holding them. Not only is the industry seeing greater adoption of managed accounts, but deeper adoption.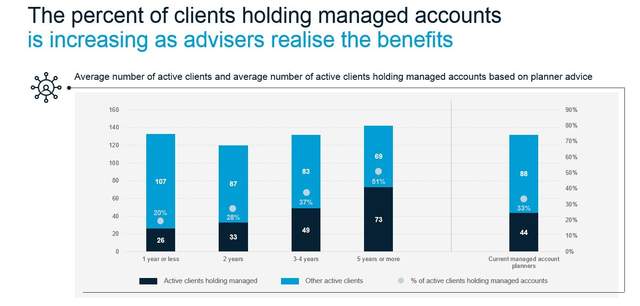 In the first year using managed accounts, a typical adviser will have about 20% of their active clients invested in them: this increases significantly each year, so that after five years, a typical adviser using managed accounts will have about half of all active clients invested in managed accounts. In other words, we believe this shows that the proportion of clients investing in managed accounts increases as advisers realise the benefits.
We believe that the end result is a higher proportion of clients being serviced more efficiently, leading to increased client confidence that their portfolio is receiving regular attention and their goals are likely to be achieved, generating higher client satisfaction and engagement. In itself this would be a highly desirable outcome, but a true win-win goes deeper than that.
For advisers, implementing managed accounts can lead to a far more effective and transparent way to show adherence to compliance, while also leading to greater practice profitability. But well beyond these considerations, we believe, is that ability of the managed accounts structure to improve an advice practice so as to lead to more professionally – and personally – satisfied advisers. At long last, the financial advisers' goal of becoming a trusted strategic partner, a 'coach' across the client lifecycle and even into the next generation, is within reach – all on the back of the humble managed account, which is readily available through investment platforms such as BT Panorama.
For more information, go to bt.com.au/managedaccounts.
About the author
Zac Leman is Head of Managed Accounts at BT. Over 16 years Zac has acquired extensive experience in the wealth management and platforms industry, with a particular in-depth focus on Managed Accounts. Zac's experience includes developing and implementing SMA and tailored investment solutions for a number of boutique Managed Account providers, and also encompasses investment research and portfolio management. At BT, Zac brings together his extensive knowledge of managed accounts, platforms and investments to lead the Managed Accounts business, developing unique, contemporary investment solutions for financial advisers and their clients. He holds a Bachelor of Science and a Masters in Applied Finance and Investment.
1 Source: Investment Trends, 2018. Investment Trends Managed Accounts Report 2018.
2 Source: Institute of Managed Account Professionals (IMAP), March 2019. Press release – 14 March 2019 IMAP Milliman Managed Account FUM Census as at 31 December 2018 page accessed 08/08/19.
3 Source: BT 2019
4 Source: State Street Global Advisors, 2019. By the Numbers: Australian Managed Accounts Sector page accessed 08/08/19.
5 Source: Investment Trends, 2019. Investment Trends Planner Technology Report 2019.
6 Source: Investment Trends 2017, 2018. BT/Investment Trends Managed Accounts 2017 survey, Investment Trends Managed Accounts Report 2018.
7 Source: Investment Trends, 2018. Investment Trends Managed Accounts Report 2018.
Important Information
This information has been prepared by Zac Leman, Head of Managed Accounts at BT, a part of Westpac Banking Corporation ABN 33 007 457 141 AFSL and Australian Credit Licence 233714 (Westpac). Information is current as at 9 August 2019. This document may contain material provided by third parties derived from sources believed to be accurate at its issue date. While such material is published with necessary permission, the Westpac Group accepts no responsibility for the accuracy or completeness of, nor does it endorse any such third party material. To the maximum extent permitted by law, we intend by this notice to exclude liability for this third party material. BT cannot give tax advice. Any tax considerations outlined in this document are general statements, based on an interpretation of current tax laws, and do not constitute tax advice. As such, you should not place reliance on any such taxation considerations as a basis for making your decision with respect to the product. This information does not take into account your personal objectives, financial situation or needs and so you should consider its appropriateness, having regard to these factors before acting on it. This document provides an overview or summary only and it should not be considered a comprehensive statement on any matter or relied upon as such. All examples and images are for illustrative purposes only. Your portfolio value and performance are likely to be different and will depend on the investment options you have selected and the time period over which you are invested in those options. Past performance is not a reliable indicator of future performance.
BT Portfolio Services Ltd ABN 73 095 055 208 AFSL 233715 (BTPS). BTPS operates Panorama Investments and BT Invest, and administers Panorama Super and BT Super Invest. BT Funds Management Limited ABN 63 002 916 458 AFSL 233724 (BTFM) is the trustee and issuer of Panorama Super and BT Super Invest, which is part of Retirement Wrap ABN 39 827 542 991. Westpac Financial Services Ltd ABN 20 000 241 127 AFSL 233716 (WFSL) is the responsible entity and issuer of interests in BT Managed Portfolios. Westpac Banking Corporation ABN 33 007 457 141 AFSL and Australian credit licence 233714 (Westpac) is the issuer of the BT Cash Management Account (BT CMA), the BT Invest Cash Management Account (BT Invest CMA) and the BT Cash Management Account Saver (BT CMA Saver). Together, these products are referred to as the Panorama products.
A Product Disclosure Statement or other disclosure document (PDS) for the Panorama products can be obtained by contacting BT on 1300 784 207 or by logging on to panorama.com.au. You should obtain and consider the relevant PDS before deciding whether to acquire, continue to hold or dispose of interests in the Panorama products. Conditions, fees and charges apply for the Panorama products and may change. The Panorama products are only available in Australia.
BTPS, BTFM and WFSL are subsidiaries of Westpac. Apart from any interest investors may have in Westpac term deposits, Westpac securities, the BT CMA, the BT Invest CMA, the BT CMA Saver or underlying bank accounts held at Westpac through their Panorama Super or BT Super Invest cash account acquired through the Panorama operating system, an investment acquired using the Panorama operating system is not an investment in, deposit with or any other liability of Westpac or any other company in the Westpac Group. These investments are subject to investment risk, including possible delays in repayment of withdrawal proceeds and loss of income and principal invested. Westpac and its related entities do not stand behind or otherwise guarantee the capital value or investment performance of any investments acquired through the Panorama operating system.