The views and opinions expressed in this article are those of Pendal Fund Services Limited (Pendal) and may not reflect the views of BT (part of the Westpac Banking Corporation), or any other company in the Westpac Group.
Crispin Murray, Head of Shares at Pendal, outlines the big issues impacting Australian stock market investors.
The elephants in the room
There are several big issues shaping the Australian share market, which extend well beyond outcomes of the latest reporting season. These form major market themes impacting the domestic economic landscape for Australian companies.
How the environment evolves and the varied impacts on the share market is the subject of much interest and debate.
One of these proverbial elephants is the trade war. At the outset, we don't claim to offer any foresight on the outcomes of a rather complex and variable geopolitical issue.
We acknowledge the eventual outcomes have the potential for a meaningful impact on Australian listed companies.
But for the present there is much that is unknown and subject to speculation.
In this article we leave aside discussion on trade wars and focus on areas where we have far greater insight.
1. Bond (negative) yields impacting shares
The first of the elephants in the room is the global interest rate environment.
Globally, we are now in an environment where about one-third of the world's bonds are in negative yields.
The secular downward trend of bond yields has resulted in a well-observed rise in liquidity in share markets – essentially relating to the flow of money away from very low yielding cash and term deposits in search of higher yielding investments.
The market's shift in expectations from quantitative tightening by central banks to a polar opposite of injecting liquidity into capital markets through lowering cash rates and/or recycling government debt, results in a natural flow towards investment in shares.
But this shift is creating distortions on equity markets that may last for some time and is driving a number of effects in our market.
The biggest thing that has happened to the Australian share market this year is the dramatic fall in Australian bond yields.
We have reached a record premium in terms of the yield uplift when investing in Australian shares instead of bonds – a situation that is unprecedented going back over the past 100 years.
This supporting factor is certainly evident in the market's rating on banks. In our discussions with the banks' management during the recent reporting season it would seem they feel they can pass through further interest rate cuts to term deposit holders to the low 1% levels.
This dynamic is increasingly driving investors into growth assets such as shares which is a supportive factor for our market.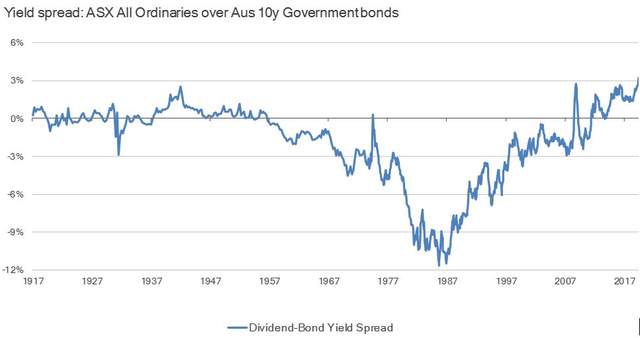 Source: CorelogicThe rising Gold price has created another sizeable impact on the share market. Gold has been historically seen as a store of value. It is not subject to a negative yield and can act as an offset against macro events like trade wars.
In isolation these effects don't justify the market's extreme valuations in some segments, but it does mean the market is generally offered a degree of support, particularly during any sell-off episode.
A related factor is the outperformance of growth stocks relative to yield oriented stocks over the last 10 years. Bond yields have continued to head lower and this has only exacerbated the disparity in performance.
This highlights the challenge of investing in just one type of strategy and provides a solid rationale for investing through a core style fund manager as we are not tied into any one type of strategy.
At some point growth will stop outperforming but there are some good growth stocks out there and having this flexibility is critical when building investment portfolios.
2. Impact from the domestic economy    
Housing and households
Results from the latest reporting season highlighted the varied impacts on companies from the domestic economic situation.
Contrast the fortunes of two companies – JB Hifi Ltd (23% growth in online sales) and Boral Ltd (14% decline in its construction project pipeline) – and the related impacts are stark.
JB Hifi operates the well-known consumer electronics retailing business which is closely aligned with retail consumption, while Boral is a building products manufacturer that is naturally aligned with the construction industry.
We are now seeing a turn in the housing cycle. It is fascinating to see that you just can't take away that love of property from the Australian population.
As soon as interest rates were cut and the confirmation that we won't see a change in legislation around housing and the tax benefits, we clearly saw a change in housing sentiment indicators.
It appears we will see some recovery in housing, but this will be limited to transactions and prices rather than for construction, where we expect a huge lag before construction recovers.
While this is good for consumer sentiment, we don't think housing will take off and credit growth is likely to remain muted. This is backed up by our discussions with the banks, which suggests a drawdown of existing mortgage debt will offset growth in new mortgages so we don't expect to see a very strong increase in house prices.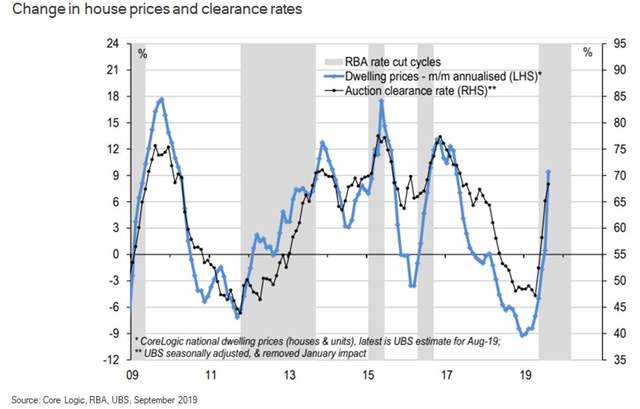 A snapshot of Australian households
Low wage growth in Australia has been a well-publicised issue. But one of the other big issues is related to tax, specifically the bracket creep which has effectively produced significant growth in taxes relative to income for a number of years.
Add to this, rising energy costs and fuel price hikes of around 10% over the last couple of years, disposable income growth has been limited to around 2%.
Consumption has therefore relied on drawings of savings to support growth of 3-4%.
This situation was clearly seen as unsustainable, particularly when you add the downward pressure on house prices, so there was a clear role for lower interest rates and income tax cuts to play in supporting the economy.
We will see lower income growth but at least the headwinds of tax and utilities prices is lower and we should see greater disposable income growth.
This will remove the reliance on savings going forward. We don't see a big uplift on consumption in Australia but policies are probably going to do enough to underpin the current growth rates of consumption.
The Government is also a big swing factor here. Considering the terms of trade benefit accruing through a weaker currency, the Australian economy is receiving some support.
The last time Australia experienced this support, the mining companies benefited from higher commodity prices and made more capital investments which flowed through to wages growth and provided direct support to the economy.
But that is not happening this time. The Government fiscal position benefits from better terms of trade; however, if the Government also appears intent on demonstrating its fiscal conservatism to drive surpluses, which is actually not a good thing.
Australia needs the benefit of a lower currency and higher commodity prices to flow through the economy. This is why we need more tax cuts and an underpinning of infrastructure investment at the state level which is why the RBA keeps saying the Government needs to play a role in this.
Relying simply on lower interest rates is causing other issues, so what the Government does in this regard is very important for the Australian market overall.
3. Corporate health check
Looking at the headline results for the year to August, the market has actually been pretty dull.
In nominal terms the headline results reflect a capital return to investors of around 4%, broadly driven by a small uplift in earnings expectations and small uplift in rating. We did see good dividend growth this year, with a lot of companies paying out special dividends and undertaking buybacks. However, this will diminish somewhat next year.
But the headline result in isolation can provide a misleading interpretation of what is really going on in the market.
There has been a huge uplift in the resources sector, although the market has looked through the large spike in iron ore prices that has driven the sector higher and has reduced growth expectations and de-rated the sector.
This is set against falling earnings for the Financials sector, partly driven by the falling interest rate environment, and very little earnings growth for Industrials. Clearly, there are very different situations facing parts of the Australian share market.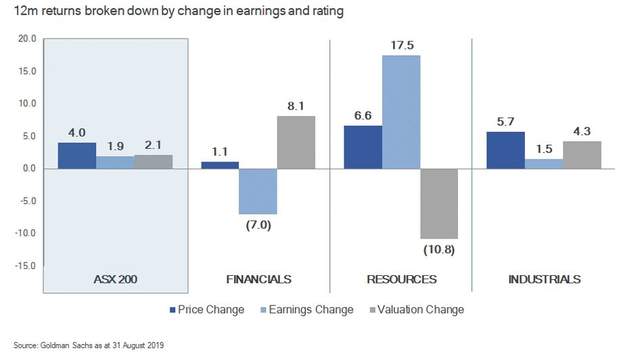 Valuations
Looking at overall valuations, on face value the market is fairly valued, trading on a price-earnings multiple of around 16 times. But this again creates a misleading picture.
When you think about the market structure, Resource stocks have de-rated to now trade below average valuations, Financials have been hit by regulation and earnings pressure so they are on low multiples, while the rest of the market has a relatively high valuation when excluding the dampening effect of Resources.
This highlights some risks to the market in terms of valuation, which reinforces the need to be focused on stock selection, as execution of investment decisions becomes particularly important when you have an underlying valuation uplift.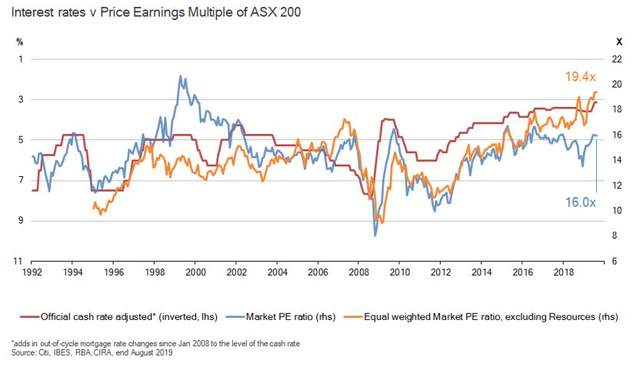 We are cautious on market valuations, as earnings growth expectations for Industrials of around 7% appear too high. Market consensus estimates are usually wrong and this year they are more wrong than usual.
There were more downgrades this year, although smaller in size and this hasn't really impacted on market sentiment. This highlights the impact of a weakening economy, although the market has risen by over 20% this year which shows the countering effect of falling interest rates and its supporting role for the market.
We expect market forecasts will be lowered but overall, we are likely to see industrials to do better over the next year, given resources won't have the same support from commodity prices that they enjoyed this year.
The weaker earnings performances were noted from the banks, steel and energy companies. Banks have had to contend with additional expenses they have had to incur, while the big cyclical companies like steel producers have had some significant downgrades, and lower oil prices have impacted the energy stocks.
Interestingly, this year we saw stocks with the highest revisions did well – but so did the stocks with worst revisions. Generally speaking, domestic cyclicals and defensive names performed well in August, although the defensives saw some share price reversal in September.
Positioning in this environment
It is particular important to build portfolios that can deliver returns in this changing landscape. We are in an incredibly low yield environment which is the most important feature of the market as it has a significant bearing on both how stocks are valued and what stocks investors actually want to own.
In summary, stocks that we will look for are those that:
Are able to return capital;    
Reinvest in their business    
Generate organic growth and cash flow    
Responding well to disruption factors    
Are effective in applying self-help measures.

We are in a low yield world. Valuations may appear uncomfortable, but it is important to acknowledge the large divergence in valuations across the market. Part of the market may be expensive but certainly not all parts.
The prospect of interest rates going up will remain low for some time. Based on all of our cross checks with companies, we don't believe the Australian economy is set for a recession. Australia has at its disposal more policy tools than most countries – the ability to cut interest rates further, a weaker currency and a fiscal surplus - which are all helpful when addressing risks to the economy. This is good for the Australian share market.
We should also never underestimate the resolve of policy makers to underpin growth. Policy makers know if they get it wrong we raise the risk of recession and they won't have many tools left to fight it, so the risks for policy makers getting it wrong are acute, with little room for error.
These are some of the factors we consider when building our portfolios. Beyond the macro factors, we focus on the company's ability to generate good organic growth and cash flow, the protection afforded by good industry structures to protect the company in tougher times, and importantly the calibre of company management. You can't underestimate the value of good management on the success of a company and equally, you shouldn't overestimate the damage that can be done by bad management. 
The world has always been challenged by geopolitics. Current risks include US-China relations, China and Hong Kong, and Brexit.
Fidelity article: Growth or value, domestic economic policy, geopolitics, de-globalisation, disruption and sustainable investing are themes to watch for equity investors.
Investors have faced a low-growth environment with low yield for some time now and this does not appear to be changing anytime soon.
This article has been prepared by Pendal Fund Services Limited (PFSL) ABN 13 161 249 332, AFSL No 431426 and is current as at October 2019. This information does not take into account your personal objectives, financial situation or needs and so you should consider its appropriateness, having regard to these factors before acting on it. Your individual situation may differ and you should considered obtaining advice from a professional tax and financial adviser before making any financial decision. Past performance is not a reliable indicator of future performance. Investing is subject to risk, including market risks. This article contains material provided by third parties derived from sources believed to be accurate as at its issue date. While such material is published with necessary permission, no company in the Westpac Group accepts any responsibility for the accuracy or completeness of, or endorses any such material. Except where contrary to law, we intend by this notice to exclude liability for this material. The views and opinions expressed in this article are those of the individual contributor(s) and do not necessarily reflect the official policy or position of BT or any company in the Westpac Group, its entities, or any other entity, on the matter discussed.