It's a brave person who says that they fully understand bitcoin. Bitcoin is a 'crypto-currency,' a digital asset. You can buy and sell bitcoins, or exchange them for goods and services in the physical world, almost instantaneously, effectively bypassing banks and the mainstream financial system.
Bitcoin has been legal tender in Australia since 1 July 2017, and is also legal currency in countries such as the United States, Canada, Germany, Italy, France, Switzerland, Japan, South Korea, Taiwan, Israel and India. China is the only exception. It was legal tender there until recently but it announced a crackdown on bitcoin trading and initial coin offerings (ICOs) – a fundraising method in which companies offer subscribers digital currency instead of stock – earlier in September, as part of a series of measures against financial speculation. South Korea followed suit later in the month. There is belief now that as a result of China's stance on bitcoin, other countries may follow suit in also looking at tightening regulation around the speculative side of this currency. Australia has currently passed legislation requiring cryptocurrency exchanges to disclose details of investors and transactions while AUSTRAC will be tasked with monitoring cryptocurrency use for money laundering and financing terrorism.
Unlike other currencies, bitcoin is not issued by a sovereign nation's central bank: it is mined, or created, from the depths of the internet. The "miners" use specialised computer hardware and software – and huge amounts of electricity – to solve complex mathematical problems, for which they are issued a certain number of bitcoins in exchange. The miners are trying to find bitcoin by creating new links in its "blockchain," which is essentially a huge digital ledger.
Because the maths problems get more complex as the bitcoin supply expands, the computing power needed to solve them also escalates. The maximum total circulation potential for bitcoins is 21 million, which could happen in about 2140 at current mining rates.

Can people make money with bitcoin?
After starting life at 6 US cents in 2010, the original bitcoin (BTC) traded as high as $US19,002.49 (approx. $A23,792.07) on 18 December 2017. Since then, the value has fluctuated, in some cases dramatically with 25% falls in one day. It was trading at $US12,138.50 (approx. $A15,198.01) a month later on 18 January 2018. A second bitcoin, Bitcoin Cash (BCH), was started in August. Other blockchain currencies also exist, such as Ethereum and Ripple.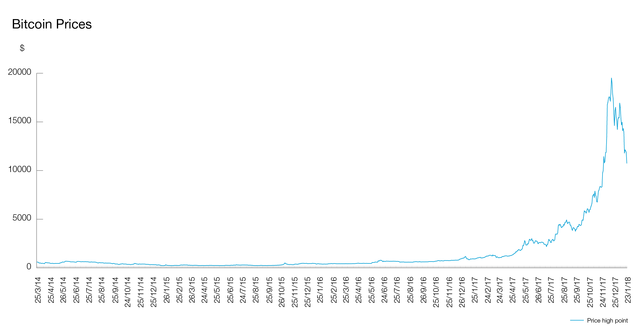 Source: Daily high prices for Bitcoin, Bloomberg, 25 March 2014 - 23 January 2018
There are two main ways to obtain bitcoins – buy them from an exchange, or receive them for goods and services. Setting up an account on a bitcoin exchange is quite straightforward. Some of the larger exchanges include Independent Reserve, BTC Markets and CoinSpot. Once you have bought or received bitcoins, a bitcoin "wallet" is essential: your bitcoins are actually stored in the blockchain, meaning the wallet is essentially a place to store your digital credentials for your bitcoin holdings.
Bitcoin is never far from the financial headlines; the Chinese crackdown was followed by widely publicised comments by JP Morgan Chase CEO Jamie Dimon that the digital currency was a "fraud," "dangerous" and a bubble that "will blow up." While Dimon's opinion is debatable – and is being widely debated – the fact remains that the underlying technology that tracks bitcoin transactions, the blockchain, is a very different beast to bitcoin.
The potential value of Blockchain
Blockchain is a shared ledger of transactions maintained by a network of computers on the internet. Blockchain is effectively a "distributed ledger," because participants have access to the information on the ledger at any time, independently – it is not a centralised ledger. As such, blockchain offers a secure, fast and cheaper medium of carrying out online transaction and online transfer of information without the need for third-party verification.
What blockchain does for bitcoin is record every transaction and store the information on a global network, such that it cannot be tampered with. The technology is essentially a secured database that allows multiple, independent parties to share digital information and transact among themselves, instantaneously, without intermediaries, because the ledgers automatically synchronise with one another. The database cannot be changed or erased.
This technology has a huge range of potential applications – it could even be the internet 2.0. From global trade to supply chains, to remittances and payments, to healthcare, to stock market operation, companies are embracing blockchain. Mining BHP uses it to record the movements of drilling samples, and to improve its supply chain processes. Food giants Nestle, Unilever and Walmart are using it to trace food contamination.
As recently as July this year, ANZ and Westpac, as part of their testing of blockchain operations, teamed up with IBM to use this technology instead of paper for bank guarantees on commercial property leasing – trials that were successful.
The Nasdaq stock market is using blockchain-based technology for voting in shareholder meetings, as well as private company stock issuance. Since early 2016, the Australian Securities Exchange (ASX) has been assessing a blockchain-style distributed ledger technology as a potential replacement for its CHESS (Clearing House Electronic Subregister System) system, which has provided clearing, settlement and asset registration services since 1994. In fact, in December 2017, the ASX announced that they will be partnering with Digital Asset, a specialist technology company to further develop the functionality for the new system. Next phase is to release their proposed transition timeline to the market for feedback in March 2018.
A report released this month by the Judge Business School at Cambridge University found that central banks are trialling blockchain, with 57% of surveyed central banks experimenting with the technology. Notwithstanding China's recent crackdown on bitcoin trading, the country's central bank, the People's Bank of China (PBoC) is examining potential use of blockchain as part of the payments ecosystem, having completed earlier this year a trial in transactions and settlements of bank acceptance bills (China is second only to the US in terms of patent applications for blockchain innovation.) Australian wheat and cotton transactions have been conducted over blockchain.

Investing in the new technology
According to research firm Market and Markets, business surrounding the blockchain technology is expected to grow from US$210.2 million in 2016 to US$2.32 billion by 2021 at a compound annual growth rate (CAGR) of 61.2%.
While bitcoin grabs the headlines, the impact of blockchain technology could well end up being a far more profound development – even more profound than the internet.
As IBM CEO Ginni Rometty put it, in the company's 2016 annual letter to shareholders: 
"Blockchain brings together shared ledgers with smart contracts to allow the secure transfer of any asset – whether a physical asset like a shipping container, a financial asset like a bond or a digital asset like music – across any business network. Blockchain will do for trusted transactions what the Internet did for information."
There is a small population of blockchain stocks listed on world markets, including local stock DigitalX (ASX code: DCC), which specialises in blockchain software and a secure for the global digital payments industry, specifically in mobile bill payments and remittance. Its mobile product AirPocket provides consumers secure cross-border payments and remittances from over 30,000 payout locations in 14 countries with a heavy presence in North America and South America
Other blockchain stocks – mainly listed in North America – include BTCS, BTL Group, Coinsilium Group, First Bitcoin Capital (which was suspended from trading by the US Securities and Exchange Commission [SEC] last month for a too-quick rise), Global Arena Holding and HashingSpace. There are also plans for bitcoin/blockchain exchange-traded funds (ETFs) to be issued, although only one, the Bitcoin Investment Trust, has yet made it to listing.
Blockchain may well be a revolution, but at this stage, the technology, although developing quickly, is only in its infancy. However, the move to blockchain becoming mainstream cannot be achieved in only isolated industries. The changes required are pervasive and will require close collaboration between all countries, industries, competitors, regulators, consumers, technologists, and the legal community in order to achieve a suitable solution, and integration into the global economies.

 Information current as at 23 January 2018. This article provides an overview or summary only and it should not be considered a comprehensive statement on any matter or relied upon as such. This information does not take into account your personal objectives, financial situation or needs and so you should consider its appropriateness, having regard to your personal objectives, financial situation and needs having regard to these factors before acting on it. This article may contain material provided by third parties derived from sources believed to be accurate at its issue date. While such material is published with necessary permission, no company in the Westpac Group accepts any responsibility for the accuracy or completeness of, or endorses any such material. Except where contrary to law, we intend by this notice to exclude liability for this material. 
©BT Financial Group 2018