Growing older brings a variety of images – retirement, downsizing the family home, grandchildren… There are also many practicalities which include managing the physical and mental concerns of age. When you consider that by 2056, 8.7 million Australians will be over 65, representing 22% of the population, and all accessing a variety of aged care services like retirement villages, nursing homes and hospitals, catering to this demographic provides wide opportunities for investment1.
A global issue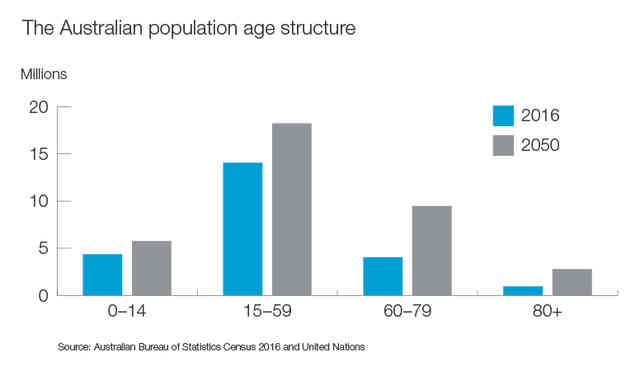 An ageing population is not just unique to Australia. The effect is most stark in Japan where almost 15.1% of the population are projected to be over 80 years by 20502. United Nations' population projections estimate that by 2050 there will be 434 million people over the age of 80 years globally, up from 125 million in 20152.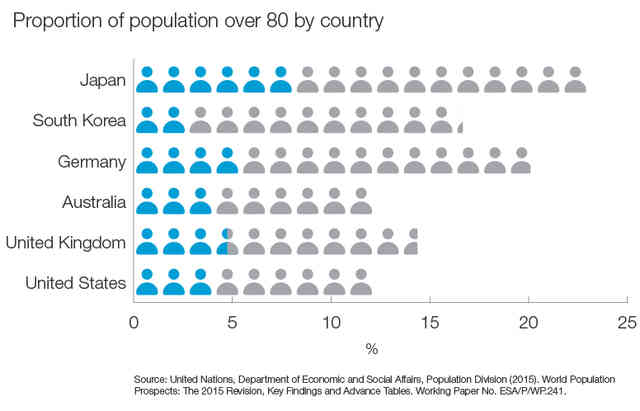 An ageing population has a number of potential economic consequences, including lower economic growth per capita, and a significant strain on government finances through pensions and healthcare spending.
There are also interesting implications for investors. There is a range of stocks in the Australian market that will likely be particularly affected and which will be the focus of this article.
Healthcare
The healthcare sector is the largest beneficiary of an ageing population. It will come as no surprise that medical care and health expenses become a greater proportion of weekly expenditure with age.
There are many types of listed companies that will likely benefit in this sector.
GPs and Diagnostic companies should see an increase in volumes, given that the frequency of visits to GPs and use of diagnostic testing increases with age. Governments typically spend 2.5 times more per person on the over 65s than on the rest of the population. Primary Health Care and Sonic Healthcare Limited, both have exposure here.
Private hospitals such as Ramsay Health Care and Healthscope would also benefit from rising hospital demand.
Medical device companies should also benefit, such as Cochlear (deafness), Resmed and Fisher & Paykel Healthcare (sleep apnoea) and Lifehealthcare (hospital supplies).
Medical research companies that are focused on chronic diseases such as dementia, arthritis, cancer and diabetes are also likely to benefit. Some smaller, speculative companies in this space include Bionomics (drugs for cancer, anxiety and dementia), Mesoblast (developing stem cells to treat diabetes, kidney disease and arthritis) and Sirtex Medical (treatment for liver cancer).
Housing
Demand for retirement villages, residential aged care and home care should also rise as a result of an ageing population. Favourable demographics and the increase in prevalence of dementia will drive the demand for high-care places over the coming decades. The Aged Care Financing Authority (ACFA) estimates that 111,000 additional beds (home care and residential care) will need to be made available by 2021-2022 alone before you start to crunch the numbers for 20563.
The lifecycle of housing demand during retirement years can be split into three distinct stages.
Retirement villages. Several listed Australian companies run villages using different models. Some, like Lifestyle Communities and Aveo Group manage villages, while others, like Ingenia Communities Group, are converting several caravan parks into retirement communities.
High-care centres. There is rapid development in this section of the market at present. Examples of companies operating residential aged high-care facilities include Estia Health, Japara Healthcare and Regis Healthcare.
Post-life. Operators of cemeteries, crematoria and funeral parlours, like InvoCare, will need to accommodate the increased demand for their services.
Financial services
Demand for financial services changes with age.
Investment managers and financial advisers will benefit from providing services to households as they switch from strategies to grow their money to drawing down on their nest egg. Banks may benefit from this as they already offer these services.
Annuities providers will benefit from greater demand for their products, as people look to extend the longevity of their assets so they have enough to live on in retirement.

Consumption
Consumer expenditure generally declines substantially with age, presenting headwinds for consumer stocks. Instead, the 65+ age group spends the greatest proportion of their weekly budget on recreation and this has increased steadily over the past two decades.
This supports the outlook for tourism and gaming. Flight and airport companies like Qantas, Virgin and Sydney Airport or accommodation companies like Mantra stand to benefit, while gaming beneficiaries would be betting companies like Tabcorp Holdings or Tatts Group, and casinos like The Star Entertainment Group, Skycity Entertainment Group and Crown Resorts.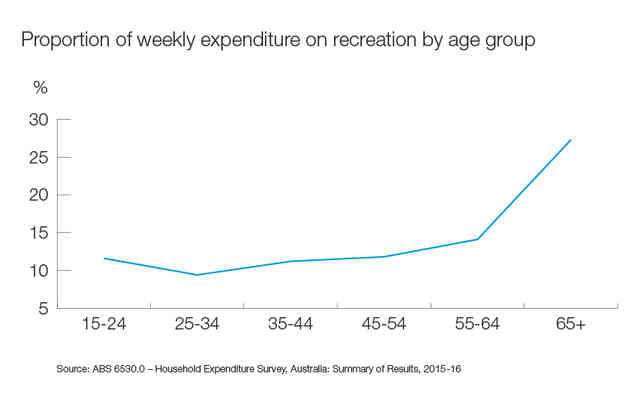 Though an ageing population may be a concern for governments, many companies have recognised the value of servicing this group. As the population continues to grow, companies that have positioned themselves to manage this and cater to their needs stand to benefit from these demographic changes. So investing in those companies in an investment portfolio could be an interesting opportunity – and on a lighter note, with age, one of life's few certainties, you could consider it an investment for your own golden years.

This information is current as at 5/10/2017.
This document has been created by Westpac Financial Services Limited (ABN 20 000 241 127, AFSL 233716). This information does not take into account your personal objectives, financial situation or needs and so you should consider its appropriateness having regard to these factors before acting on it. This information provides an overview or summary only and it should not be considered a comprehensive statement on any matter or relied upon as such.  Westpac Financial Services Limited and some of its related entities may have invested in the past, currently or in the future, in some of the companies referred to in this document. The content of this document is in no way a recommendation to invest in, hold or sell interests in the companies referred to.
These projections are predictive in nature. Whilst we have used every effort to ensure that the assumptions on which the projections are based are reasonable, the projections may be affected by inaccurate assumptions or may not take into account known or unknown risks and uncertainties. The actual results actually achieved may differ materially from these projections.
© Westpac Financial Services Ltd 2017.