From its Paris headquarters, the Organisation for Economic Co-operation and Development (OECD), the peak body for Australia's peer-group of developed nations, recently weighed in on Australian residential property saying the market could be headed for a significant collapse in house prices that could lead to an economic downturn.
The OECD's voice joined a host of others, from the International Monetary Fund (IMF), to ratings agency Standard & Poor's, to investment banks, economists, hedge funds, academics and politicians, saying that Australian residential property is over-valued and due for a correction with significant implications for the nation's economy.

So, is our property market expensive?
There's no question that Australian residential property has risen strongly. According to property research firm CoreLogic, across the combined capital cities, dwelling values have increased by 346% over the 20 years to April 2017. To put this into context, however, over the same period the Australian share market has generated a return of 537% on a cumulative basis. So, although residential property has returned strongly, it by no means appears 'excessive' when compared to long-term returns from equities – the issue, however, is the more recent jump in house prices, which has pushed many observers to see Australian housing as expensive and unaffordable.
In the 12 months to May 31, CoreLogic says capital-city houses grew in value by 8.4% – powered by the major cities being Sydney (up 11.1%) and Melbourne (up 11.5%). That was despite capital-city house prices falling by 1.1% in May, the biggest monthly price fall in 18 months. Darwin (down 6.4%) and Perth (down 3.8%) prices actually fell over the year. These numbers show the risk of generalising commentary about the "Australian residential property market" as there are in fact numerous individual markets across the states, driven by many different economic and social factors. However, research shows that when compared to median incomes, the east coast of Australia has the most expensive residential real estate in the developed world.
Capital cities are different to regional cities; apartments are different to houses. In the 12 months to May 31, CoreLogic says capital-city apartments rose in value by just 3.6%, with prices falling in Melbourne and Brisbane. The median house price in Sydney has surged to a record $1,150,000; the median Melbourne price is $843,674. A decade ago, those medians were $521,500 and $420,000 respectively.
What is behind the house price rises?
Arguably the major factor is low interest rates. In late 2011, in response to the fall in business investment (mainly mining), the Reserve Bank of Australia (RBA) looked to stimulate the economy by progressively lowering interest rates, from 4.75%, reaching the historic low of 1.50%, which has now been in place for nine months. As has been the case overseas, this has sucked investment into property, swelling prices.
There is also the fact that banks have been prepared to countenance interest-only loans, where the borrowers are investors focused on capital gain. This kind of lending recently reached 40% of the banks' home-loan portfolios, which the bank regulator, the Australian Prudential Regulation Authority (APRA), described as high in historical terms, and on international comparisons. It requested in March that banks bring that proportion down to 30%, and to curb lending to property investors in general. This brought lending back in April, with owner-occupier and investor lending both declining over the month, and total Australian housing finance falling by 1.6% to $32.5 billion.
Strong population growth by global standards has also been a positive for house prices, with Australia still an under-supplied property market. According to the Housing Industry Association, demand for housing continues to exceed supply, but the gap is narrowing and strong building activity in recent years has reduced the deficit.
Real house prices which is a measure of price increases adjusted for inflation, show Sydney prices leading the way with a 366% price increase since 1980 and with a startling 64% growth in prices over the last 4 years. Equally impressive have been Melbourne prices over the same 4 year period with growth of 43%, while Canberra and Adelaide came in at 18% and 12% respectively. Perth on the other hand has declined 3% over the last 4 years and 15% from its peak in 2007.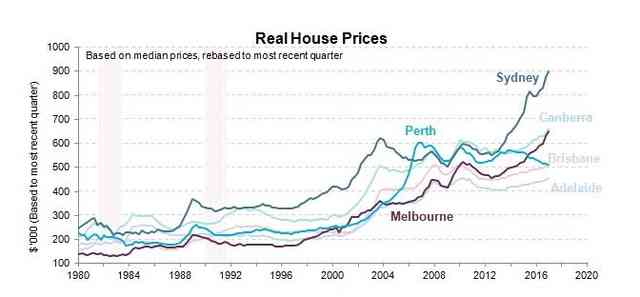 Source: ABS Melbourne Institute, Minack Advisors
The China effect
Then there is the effect of overseas investors, most notably, from China. A March 2017 report from investment bank Credit Suisse, found non-citizens were buying one in every four new homes in New South Wales, with 80% of those buyers from China (defined as being people from mainland China, Hong Kong, Macau and Taiwan). In Victoria, that figure was 16%. Non-citizens were buying 21% of properties in the two states, at an annualised rate of $8 billion. In effect, the marginal buyer of Australian property is Chinese.
Both sets of authorities have clamped down on this activity. Australian restrictions dictate that to buy existing property in Australia, overseas buyers need to be temporary or permanent residents – or commit to development within two years. Second, State Governments place a high tax impost on these purchases. For its part, the Chinese government has restricted money leaving China, as it tries to defend the value of the renminbi versus the US dollar. In November 2016, Beijing imposed restrictions on cross-border capital flows and an individual quota on foreign exchange movements of $US50,000 a year.
The following charts show the effect of the investor appetite for Australian property and the share relative to first home buyers. Evident as well is that the demand for new construction is focused on apartments, which is a notable theme along the east coast cities.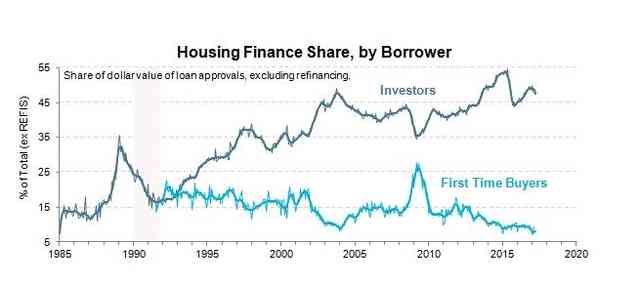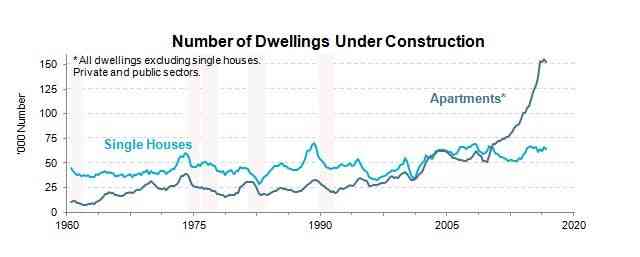 Source: ABS Melbourne Institute, Minack Advisors
Then, on the final day of 2016, the State Administration of Foreign Exchange announced that all buyers of foreign exchange must now sign a pledge that they would not use their US$50,000 quotas for offshore property investment. People breaching this rule would be added to a government watch list, denied access to foreign currency for three years and subjected to money-laundering investigations.
But Chinese demand for Australian property is likely to grow, because the country is an attractive place to hold assets externally, and – although it might surprise Australians – Sydney and Melbourne property is cheap compared to the alternatives for Chinese buyers.
What's next for the housing market in Australia?
Given all of these factors, what could tip the housing market from its perch?
Interest rates are the main potential trigger. With Australia's household debt at record levels, running at about 189% of incomes, households are very vulnerable to any rise in interest rates, an increase in unemployment, or any further tightening in bank lending standards. And if too many investors wanted to sell at the same time, liquidity risk could well be a problem. However, continued foreign (Chinese) demand would likely help to cushion any downturn.
The residential property market could be poised to enter a downturn, in both investor sentiment and prices, because of a combination of ballooning unit supply, bank interest rate hikes (independent of the RBA), and tightening lending standards. But trying to gauge the extent of any downturn comes back to the fact that there is no one Australian residential property market.
The below chart shows the widening spread between the RBA Cash rate and the standard variable / average rate paid by borrowers. This is in effect the banks recognition of 'risk' in the market.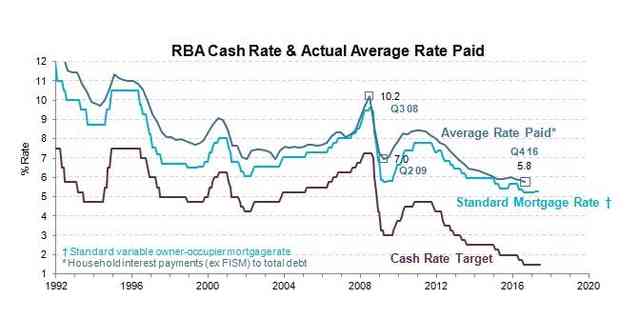 Source: ABS Melbourne Institute, RBA, Minack Advisors
As bank tightening measures take further effect as a result of macro-prudential standards issued by APRA, and independently by the banks themselves, weaker sentiment is sideling potential buyers and it's likely that the housing market will moderate. But given that interest rates are expected to remain low and unemployment remains low – along with population growth that remains firm, there is not widespread expectations of large-scale price falls.
A 'cooling' of the market, or at worse a flat-lining in prices, seems like a more plausible scenario in the near term, particularly in Sydney, where an estimated shortage of dwellings persists. But the high-rise apartment markets, where recent supply increases have been most dramatic, are more risky in this context than established houses.
Residential property is definitely under pressure to repeat the spectacular growth that the asset class has seen in the last few years: investors expecting this rate of growth to continue are likely to be disappointed. Net rent across Australia is also, on average, a negative outcome.
Australia has a very tax-effective market, and the tax benefits remain advantageous to investors, as long as the focus is on long-term capital growth. Because there are many individual residential property markets, there is a wide range of access points, each with its own return and liquidity profile.
The market remains under-supplied on a national basis, and measures taken by APRA (and the individual banks themselves), have begun to redress upward price pressure. There is continued sentiment that values will continue to increase, albeit at a lower rate of growth.
For more information, please call 132 135.
This information is current as at 29/06/2017.

This article provides an overview or summary only and it should not be considered a comprehensive statement on any matter or relied upon as such. This information does not take into account your personal objectives, financial situation or needs and so you should consider its appropriateness, having regard to your personal objectives, financial situation and needs having regard to these factors before acting on it. This article may contain material provided by third parties derived from sources believed to be accurate at its issue date. While such material is published with necessary permission, no company in the Westpac Group accepts any responsibility for the accuracy or completeness of, or endorses any such material. Except where contrary to law, we intend by this notice to exclude liability for this material.