Innovators. Political influencers. Developers. Trade drivers. China's influence on the world is evolving and expanding. 
China and Australia have long had close ties. As our key trade partner for resources in particular, China's decision to move away from industrial development in favour of services and consumption has had a heavy impact on Australian mining companies. However, this decision has opened a number of new opportunities that savvy companies and countries can take advantage of.
Move over Mick Dundee
Australia has already seen the benefits of Chinese tourism and more is likely to come. Tourism Australia Research forecasts Chinese tourists will nearly triple to 3.2 million by 2025 and create a second great tourism boom for Australia (the first great boom was post the movie Crocodile Dundee and lasted 15 years).

A large number of companies may benefit from the increased tourism.
Chinese tourists spend more in total than any other country – but are only travelling at a quarter of the rate (based on proportion of population of other countries). This is likely to grow.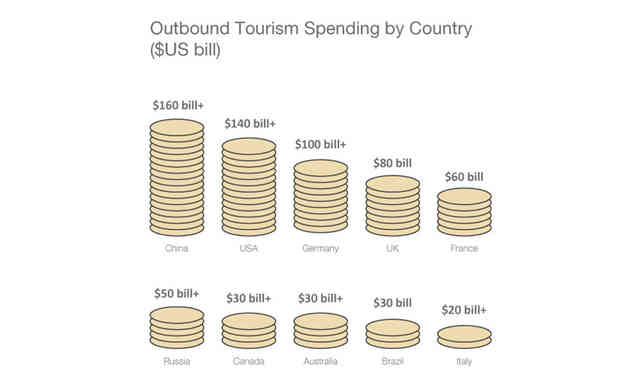 Source: Datastream
In fact, the increased tourism has sparked an increase in new hotel development for the first time in 25 years (Source: Datastream).
Feeding the dragon
Australian vitamins have been extremely popular in China. According to Blackmores, 40% of its revenue is from China and primarily through online shopping.
Chinese consumers view Australia as a trusted source when it comes to product safety. After some high profile food scandals, this is a critical concern. They are also highly likely to use online shopping.
The key opportunities are for Australian food, vitamins and skin care producers. A number of Australian listed companies are already specifically targeting the Chinese market such as BWX, Vitaco, Bellamy, Treasury Estates and Capillano.
Bricks and mortar
While regulations in Australia and China have tightened, Chinese consumers are likely to continue to have a strong influence on property. Mirvac estimates 20% of new apartment pre-sales come from China (see chart below). Building companies and suppliers of building materials particularly benefit from ongoing new construction and development. When this eventually slows, the ongoing boost to tourism should support the industry through hotel development instead.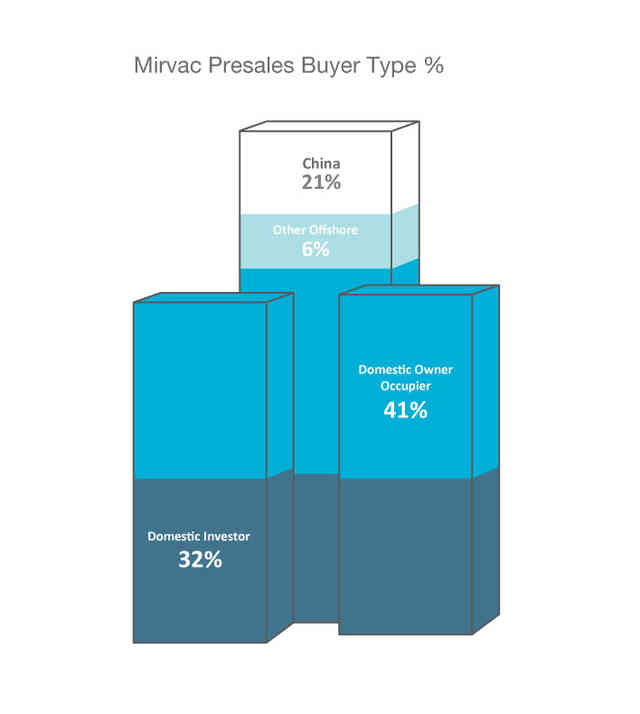 Supporting Australia
Though changes to China may be difficult for some companies, overall there are a lot of opportunities. The growth and evolution of Chinese consumers will have direct flow on benefits to industries like tourism, agriculture, skincare and property. It may also benefit a broader range of areas such as healthcare, education and financial services.
For more information on how to access the potential benefits of China in your investments, please contact your financial adviser.
This information is current as at 16/08/2016.
This document has been created by Westpac Financial Services Limited (ABN 20 000 241 127, AFSL 233716). It provides an overview or summary only and it should not be considered a comprehensive statement on any matter or relied upon as such. This information has been prepared without taking account of your objectives, financial situation or needs. Because of this, you should, before acting on this information, consider its appropriateness, having regard to your objectives, financial situation and needs. Projections given above are predicative in character. Whilst every effort has been taken to ensure that the assumptions on which the projections are based are reasonable, the projections may be based on incorrect assumptions or may not take into account known or unknown risks and uncertainties. The results ultimately achieved may differ materially from these projections. Information in this document that has been provided by third parties has not been independently verified and Westpac Financial Services Limited is not in any way responsible for such information. Past performance is not a reliable indicator of future performance.
© Westpac Financial Services Limited 2016.