After a strong start to 2018, investors may have felt a sense of whiplash after the events at the start of February. News of strong economic growth bolstered equity markets globally, with US and Asian markets particular beneficiaries of market optimism. So what changed in February?
A change in fortunes
Equity markets reached record highs in January, with the best start to a year for the S&P500 index since 1987 (read more about activity in January). The change in market activity started on the wake of US employment data released on 2 February, which was stronger than anticipated, though there had been some movements in bond markets in the end of January. US payrolls employment data showed the US economy had added 200,000 jobs in January (ahead of the expected 180,000) and wages showed a 2.9% annualised increased. Further to this, US company reporting season was typically stronger than expected over January. As a result, the US Federal Reserve (Fed) reinforced their view that inflation would reach their targets quicker than expected, which reinforced the market's views that the Fed is more likely to increase the Federal Funds Rate by the stated three times through 2018.
It might seem strange therefore that markets dropped off the back of good news for economic growth, however this change relates more to the recognition of inflation pressures as the economy grows and in turn, the prospect of higher interest rates. Many investors responded to concerns over a changing interest rate environment by moving investments from equities to those assets which they view might benefit from higher interest rates.
Higher interest rates – good or bad?
Higher interest rates can be a positive for some economic and market activities, and inhibit others. Higher interest rates generally mean a higher cost of borrowing money. By example, this might mean higher mortgage or loan repayments. On the other side, it can mean a higher rate of return on savings or bonds. Rates (as part of monetary policy) is a tool used by governments to manage the pace of economic growth and inflation, with lower rates recently used post the Global Financial Crisis to encourage spending and growth and now, higher rates to manage the pace of growth to sustainable levels.
Extending beyond the US
While the selloff in equities started with US activity, it affected markets globally as investors considered the implications in their own markets of higher rates and strength in the US and to companies in their own markets with international revenue streams.
In some situations of share market falls, there can also be a psychological element in investor behaviour. People are uncomfortable in situations where they fear they will lose money, taking fast actions they believe will preserve their investments from falling further. These decisions might not always take into account the true state of their investments, or their longer-term strategy and can exacerbate the appearance of market activity overall.
In the first week of February, the Australian market fell by 4.6%, European and UK equity markets were down by 4%, Japan 8%, China 10% and the US market was down by 5.2%. However, as markets have now priced in the prospect of higher interest rates (and higher inflation), and with the support of continued positive company earnings data, there has been recovery of these losses over the latter half of February.
How has our share market and the US fared over the last year?
Investors in Australian and US share markets since January 2017 would still have generated a positive return to 23 February 2018 despite recent market falls. You can see this in Chart 1.
Chart 1: ASX 200 and S&P 500 – January 2017 to 23 February 2018 (rebased to 100)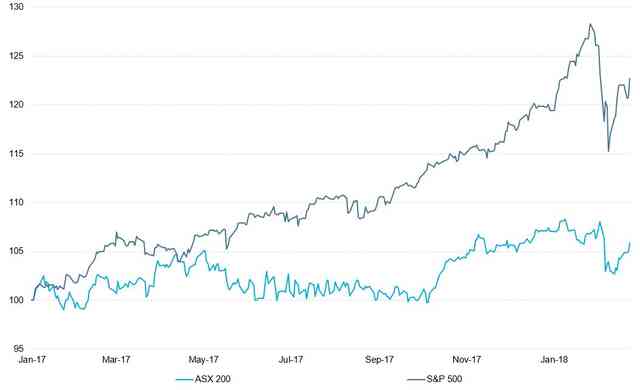 Source: BT Investment Solutions/Bloomberg February 2018
Volatility to continue?
The rapid movement in the market, also measured as volatility, is somewhat unavoidable for investors. There will always be different events and reactions that drive a spike or fall in the value of investments at different points in time. You can see how this looks over the longer term in the Saving v Investing chart. So how long will this current volatility last?
Below is the US S&P 500 VIX (Volatility index), which is seen as a measure of 'fear' in the markets. As is evident from the recent market pull-back, volatility spiked in dramatic fashion, in a similar way to fears attributed to China's currency revaluation in September 2015, the US's debt downgrade and concerns over the EU in late 2011, the European debt crisis early 2010, and even the GFC in mid-2008. All these events came and went, with the VIX once again settling and markets moving upwards again. In fact, in early February, the VIX 'spiked' at a level last seen in mid-2015. However, within three weeks, the index had fallen to 16, which is below the historical average of around 20. 
Chart 2: VIX – last 10 years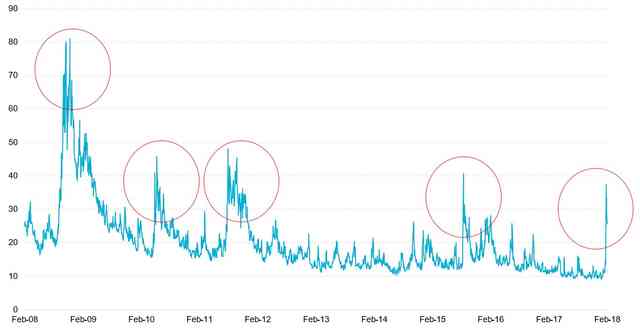 Source: BT Investment Solutions/Bloomberg
Forecasting market activity is challenging. It is more than specific events; it also needs to factor human behaviour and psychology, which is often unpredictable. The volatility triggered by investor recognition of strong US growth and what this might mean for interest rates may continue – but equally may settle if investors become more comfortable with what it means and how their investments are priced. It is important to look beyond volatility to the fundamentals of investments – as well as the overall state of economic growth in the world.
A large downward market movement can be commonly seen in a healthy bull market, however the size of the increased volatility in this instance was a surprise. Markets can take time to stabilise so investors might expect some continued downward market movements, coupled with increased volatility as liquidity (quantitative easing) begins to be withdrawn and interest rates begin to rise in the US.
Managing uncertainty in your portfolio
With uncertainty a fact of life, investors may wonder how best to manage this in their investments. There are a few things to keep in mind:
1. Be clear on your investment strategy and your goals
Ensure your investments continue to match with your goals and strategy. If your investments are still right for you, short-term changes need not be a major concern.
2. Look to the fundamentals before making fast decisions
Rather than focusing just on price as a measure of value, particularly with equities, look to the bigger picture such as what a company may be doing to increase its customer base or develop newer and more innovative products to appeal to customer needs. You can find this sort of information on company investor websites and reports to help you work out if an investment will be valuable to you in the longer term. Making a fast decision in a market downturn may mean you lock in any losses.
3. Diversify your investments
Spreading your investments across different types of assets, sectors and locations can help reduce your risk of loss. Different investments may perform differently at different points in time, see more in the Perils of Market Timing. 
Information current as at 26 February 2018. This document has been prepared by Westpac Financial Services Limited (ABN 20 000 241 127, AFSL 233716). This article provides an overview or summary only and it should not be considered a comprehensive statement on any matter or relied upon as such. This information does not take into account your personal objectives, financial situation or needs and so you should consider its appropriateness, having regard to your personal objectives, financial situation and needs having regard to these factors before acting on it. Past performance is not a reliable indicator of future performance. This article may contain material provided by third parties derived from sources believed to be accurate at its issue date. While such material is published with necessary permission, no company in the Westpac Group accepts any responsibility for the accuracy or completeness of, or endorses any such material. Except where contrary to law, we intend by this notice to exclude liability for this material. ©Westpac Financial Services Limited 2018.